'The Good Dinosaur' Trailer: Pixar Doesn't Need Dialogue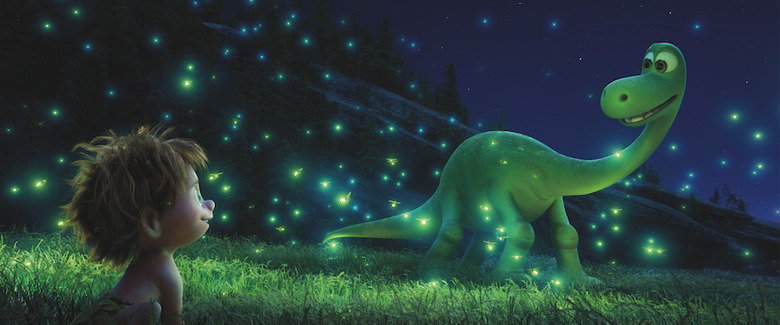 The Good Dinosaur is the second Pixar film for 2015, and this new Good Dinosaur trailer shows off the incredible photo-realistic world built for the film as well as the more cartoonish characters that inhabit it.
The film is about an orphaned dinosaur who befriends a young human boy, and reportedly features relatively little dialogue as the two communicate through action and expression rather than words. This trailer follows suit, using music and action to communicate the film's nature. There's just one word spoken in this trailer, but you'll understand the story just the same.
The music here is pretty overbearing, but we can understand where that impulse comes from — this is a family film, and Pixar seems eager to sell this to the broadest audience possible. And who can blame them? I'm still fascinated by the look of the film, as the world itself appears to be perhaps the most impressive environment Pixar has ever built. And the characters, who are no less impressive, stand out even more because of the contrast between them and the world.
Despite the overall tone of this trailer, The Good Dinosaur does feature some dialogue, as it boasts a voice cast that includes Raymond Ochoa, Jeffrey Wright, Steve Zahn, AJ Buckley, Anna Paquin, Sam Elliott, Frances McDormand, Marcus Scribner, and Jack Bright.
Directed by Peter Sohn, whose directorial debut was the Pixar short film Partly Cloudy, The Good Dinosaur opens in theatres nationwide on November 25. Trailer via Disney.
"The Good Dinosaur" asks the question: What if the asteroid that forever changed life on Earth missed the planet completely and giant dinosaurs never became extinct?  Pixar Animation Studios takes you on an epic journey into the world of dinosaurs where an Apatosaurus named Arlo (voice of Raymond Ochoa) makes an unlikely human friend. While traveling through a harsh and mysterious landscape, Arlo learns the power of confronting his fears and discovers what he is truly capable of.