'Fargo' Season 2 Reveals 8 New Teasers And 2 New Photos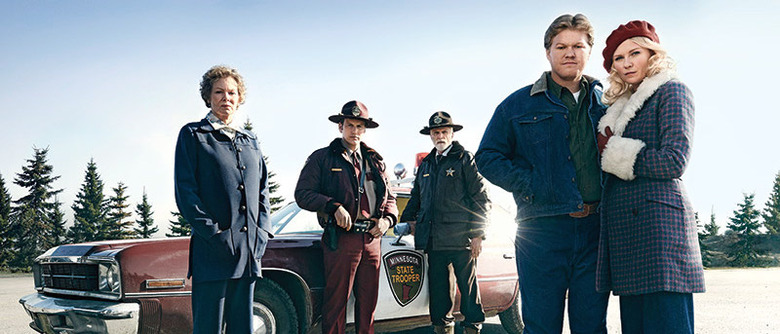 Get ready for a whole new season of "Minnesota nice." FX has debuted two new pictures and eight(!) new teasers from the second season of Fargo, which picks up in 1979 with a then-youthful Lou Solverson. See the latest Fargo Season 2 images and teasers after the jump.
Entertainment Weekly debuted the new Fargo images.
The new pics put the Blomquists front and center. Peggy (Kirsten Dunst) has been described as "a small town beautician with big city dreams." Ed (Jesse Plemons) is her clueless but supportive husband, a butcher's assistant. "He's unfortunately, or fortunately, madly devoted to his wife," Plemons told EW.
Peggy's machinations get the couple caught in the middle of a turf war between a local crime gang led by matriarch Floyd Gerhardt (Jean Smart) and a major out-of-town syndicate represented by Joe Bulo (Brad Garrett). State police officer Lou Solverson (Patrick Wilson) and his father-in-law Sheriff Hank Larsson (Ted Dansson) are there to sort out the sordid consequences.
And speaking of sordid consequences, here are several more Fargo Season 2 teasers thanks to the FX YouTube page.
As usual with these teasers, they don't really reveal much, but they get the black-comedy tone across perfectly. Particularly the first one, in which the camera pulls back from an innocent-looking snowman face to reveal it's perched atop a dead body. Twisted, hilarious, and weirdly lovable, just like Fargo.
Fargo Season 2 premieres in September. Here's the detailed synopsis:
The all new "true crime" case of Fargo's new chapter travels back to 1979 in Sioux Falls, South Dakota and Luverne, Minnesota, where a young State Police Officer "Lou Solverson" (Wilson), recently back from Vietnam, investigates a case involving a local crime gang and a major Mob syndicate. Helping him piece things together is his father-in-law, "Sheriff Hank Larsson" (Danson). The investigation will lead them to a colorful cast of characters that includes "Karl Weathers" (Nick Offerman), the town lawyer of Luverne, Minnesota. A Korean War vet, Karl is a flowery drunk blessed with the gift of gab and the eloquence of a true con artist. Three-time Emmy winner Brad Garrett will play "Joe Bulo," the front man for the northern expansion of a Kansas City crime syndicate. The new face of corporate crime, Joe's bringing a Walmart mentality to small town America. His number two is "Mike Milligan" (Bokeem Woodbine). Part enforcer, part detective, Mike is always smiling – but the joke is usually on you. Bulo and his crew have their sights set on the Gerhardt crime family in Fargo, currently led by matriarch "Floyd Gerhardt" (Smart). With her husband at death's door, Floyd takes over the family business, frustrating her eldest son, "Dodd Gerhardt" (Jeffrey Donovan). An impatient hothead with a cruel streak to match his ambitions, Dodd can't wait for both his parents to die so he can take over and expand their business from kingdom to empire."Bear Gerhardt" (Angus Sampson) is the middle son, an intimidatingly large man who, although inarticulate, is the most decent of his clan. "Rye Gerhardt" (Kieran Culkin), the youngest of the Gerhardt clan, views himself as a big shot, but in reality he's just a small dog who barks big.