Scott C.'s Great Showdowns Artwork Series Makes HBO's 'Game Of Thrones' Adorable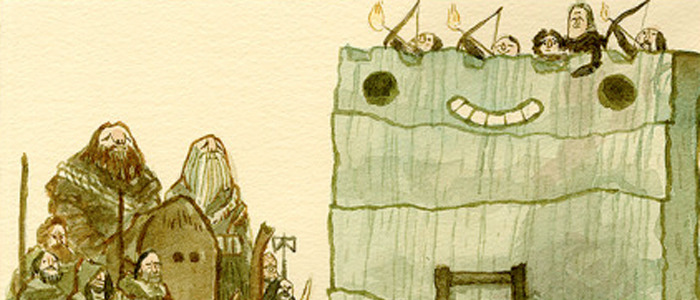 We may receive a commission on purchases made from links.
When fans think of HBO's fantasy series Game of Thrones, they don't usually think of words like cute or adorable. But they will once they see characters from the show put together for artist Scott C.'s popular Great Showdowns art series.
Scott C. already has a couple books out with Great Showdowns pieces, featuring illustrations of some of the most iconic character match-ups in film and television done in such a charming way. And at Comic-Con he unveiled a whole slew of drawings with characters from Game of Thrones. If you're a fan of the show and Scott C.s artwork, these are great.
See the Scott C Game of Thrones Great Showdowns pieces after the jump!
Here's the prints going on sale online this week (via GreatShowdowns.com):
The pieces go on sale beginning tomorrow, and with the exception of the Comic-Con prints, they're being sold in sets as indicated in the images above. Here's the schedule for when you can buy them and how much each of them will take our of your wallet:
Tues 7/21 @ 3pm EST – Remaining prints from the 5 SDCC releases (50 of each to be sold separately at $15 and $25 each)
Wed 7/22 @ 3pm EST – Set #1 (edition of 100) $75Thurs 7/23 @ 3pm EST  – Set #2 (edition of 100) $75Friday 7/24 @ 3pm EST  – Set #3 (edition of 100) -$75
If you want to get your hands on any of these sets, then hit up TheScottCShop tomorrow starting at 3pm Eastern and everyday for the next four days.
Easily my favorites are the one of Ned Stark opposite the sword that beheaded him, and also the wildlings opposite the wall. They're so just damn adorable.But no matter who your favorite characters are, there's something here for everybody. And if for some reason you don't want the whole set, split them up amongst your other friends who are Game of Thrones friends.