A 'Xena: Warrior Princess' Reboot Is In The Works [Updated]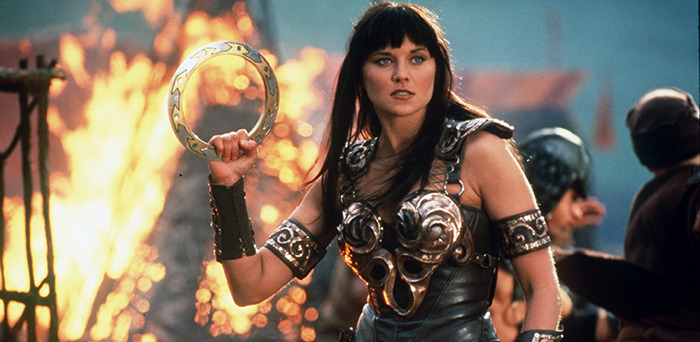 Producers Sam Raimi and Robert Tapert hired Lucy Lawless to play Xena in their '90s TV series Hercules: The Legendary Journeys, which led to her starring role in the original TV series Xena: Warrior Princess. When the pair pulled Lawless into their new show Ash vs Evil Dead, we wondered if a new Xena series might not be far behind. And, yep, here's news of the early stages of a Xena reboot, with likely involvement from Lawless, Raimi, and Tapert.
Update: Lucy Lawless says this news is "just a rumor," more below.THR reports on the developments, saying the Xena reboot is "in the extremely early development stages." Raimi and Tapert are looking for a writer now. All we know about what the show could be is that the new show will be a "modern reboot" — argue amongst yourselves about what that means. Reportedly, the producers are looking for "a sophisticated and smart superhero for a new generation."
While we might guess that Lawless won't star in the reboot, the trade does say that she is expected to have a role on the show, both on camera and behind the scenes. Given how Tapert and Raimi tend to keep things in their extended production family, a Xena reboot without Lawless as a producer would be a surprise. (There is some question about whether Raimi and Tapert are really the ones pushing this forward, or if they are merely involved.)
We know that Lawless has wanted Xena to come back to TV; at Comic Con she told HitFix "I don't know what the holdup is... Don't waste this opportunity. Reinvigorate that franchise...They're fools not to bring it back." She's been pushing that return, however it might happen:
I'm pitching my ass off to make it happen, whether it's with me or not. I think it'd be funny to have a reboot like Ash vs. Evil Dead — like middle-aged Xena in a muumuu with a bad attitude and a smoking habit. ... Bring Ted Raimi in ... [and maybe] Bruce Campbell.
We also don't know if this will be a short "event series," or a 10-13 season, or a more traditional full network order. The report says the idea is to create an ongoing series, so if the Xena reboot takes hold with audiences we'll likely see more than one season.
If things work out well, expect to see the new Xena in 2016. NBC and NBC Universal International are behind the project. We'll report on news of writer and potential cast hires as it becomes available.
Update: After this news did the rounds, Lucy Lawless said,
Sorry, friends! news of a #Xena reboot is just a rumor. I'd love it to happen one day but it's still in the wishful thinking stage.

— Lucy Lawless (@RealLucyLawless) July 20, 2015
This could mean two things. One, that she's correct, and the news of a reboot or relaunch is premature, and still in mere rumor stage. The other is that it could be happening, but without her involvement. We've reached out to sources to learn more.