'Before We Go' Trailer: Stranded Alice Eve Meets Super-Nice Guy Chris Evans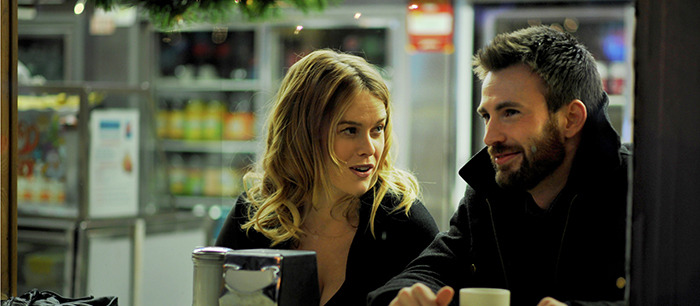 Chris Evans put down his shield for a while in December 2013 to direct his first feature, and you can now see the results of his efforts via the Before We Go trailer. The film stars Evans and Alice Eve as a pair of people who come together in Manhattan when Eve's character deals with the theft of her purse, and nice guy Chris Evans comes gently to the rescue.
You might wonder if romance blossoms between the two, and given that the stars are Eve and Evans, you probably don't even need to watch the trailer to figure that out. If you're eager to see what Evans does when he's not suited up as Captain America, check out the Before We Go trailer below.
That looks pleasant enough, and it's nice to see Evans outside of the superhero outfits and big-ticket effects. But does it work?
Before We Go premiered at Toronto last year, and reviews weren't super-enthusiastic, knocking it for failing to measure up to the seemingly obvious influence of films like Before Sunrise. "Lukewarm" is a word that shows up in more than one review; Variety called it "a tepid homage (in title and form) to Richard Linklater, Ethan Hawke and Julie Delpy's "Before" trilogy" while The Playlist referred to it as a "strained romantic drama."
But we'll give Evans credit for putting something out there that is totally different from the material he's used to cultivate the bulk of his fanbase, and see the film for ourselves when we get the chance.
And that chance comes soon: Before We Go will be on VOD beginning tomorrow, July 21. It opens in select theaters September 4. Trailer via Yahoo.
A chance encounter between two strangers (Chris Evans, Alice Eve) in Grand Central Terminal sparks a life-changing, nighttime sojourn through New York City.