Ava DuVernay Reveals Why She Turned Down Directing Marvel's 'Black Panther'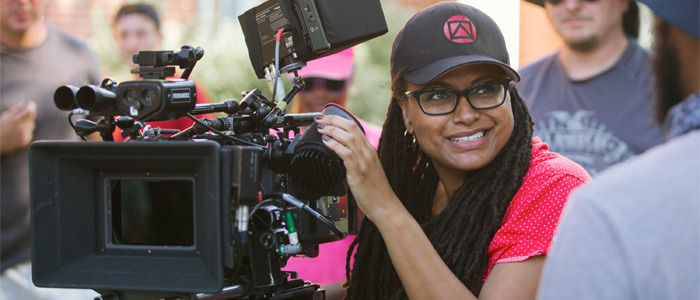 There were plenty of people who were excited when reports surfaced of Selma director Ava DuVernay being in the running for either Captain Marvel or Black Panther. But sadly, even after Kevin Feige confirmed talks with the filmmaker, she ended up turning down the job to direct Chadwick Boseman as the latter superhero from Wakanda.
Rumors had swirled about Marvel overbearing with their directors in order to keep their cinematic universe on the track that they have planned, which also seemed to be one potential reason Edgar Wright left Ant-Man. Now DuVernay has seemingly confirmed those rumors, saying that too much compromise made her think she wouldn't be able to make the film she wanted to make.
Find out why Ava DuVernay turned down Black Panther after the jump!
Here's what the filmmaker told THR about passing on the Marvel gig:
"For me, it was a process of trying to figure out, are these people I want to go to bed with? Because it's really a marriage, and for this, it would be three years. It'd be three years of not doing other things that are important to me. So it was a question of, is this important enough for me to do?
At one point, the answer was yes, because I thought there was value in putting that kind of imagery into the culture in a worldwide, huge way, in a certain way: excitement, action, fun, all those things, and yet still be focused on a black man as a hero — that would be pretty revolutionary. These Marvel films go everywhere from Shanghai to Uganda, and nothing that I probably will make will reach that many people, so I found value in that. That's how the conversations continued, because that's what I was interested in. But everyone's interested in different things.
What my name is on means something to me — (my bodies of work) are my children. This is my art. This is what will live on after I'm gone. So it's important to me that that be true to who I was in this moment. And if there's too much compromise, it really wasn't going to be an Ava DuVernay film."
This is somewhat frustrating to hear, in part because this would have given Marvel a chance to be have a lot more diversity behind the camera than they've had since the beginning of their cinematic universe. Bringing a black woman on board for a movie like Black Panther would have been huge, but it seems like Marvel is very controlling with their properties so as not to disrupt the overall style of their comic book world.
On one hand, I can see why Marvel is this overbearing, especially after seeing how studios have handled some of their properties like Fantastic Four, Ghost Rider, Daredevil and The Punisher. But at the same time, it doesn't hurt to add some distinct style to make the movies stand out a little bit so it doesn't feel like the same story with a different superhero.
If there's one complaint that even Marvel fans have about the cinematic universe it's that their formula is starting to get a little tiresome, especially with regards to underdeveloped villains. For me, it hasn't reached a point where its ruined a movie, but even some of the Marvel flicks that I love (Guardians of the Galaxy) have very forgettable villains.
Maybe it's time for Marvel to loosen the reins a little bit to allow some filmmakers to play more freely in their universe. Or maybe Marvel knows exactly what they're doing, and if it ain't broke, well, you know.
Do you think Marvel is too strict and controlling with their directors?