Sam Raimi Has "A Lot Of Faith" In Marvel's 'Spider-Man' Reboot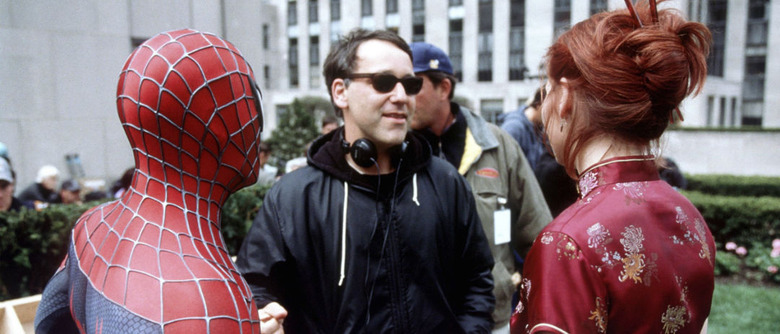 As Spider-Man gears up for yet another reboot — this time as part of the Marvel Cinematic Universe — Sam Raimi, who directed the first Spider-Man feature, has weighed in with his thoughts.
Put simply, he sound pretty excited for the upcoming Spider-Man, declaring that he has "a lot of faith" in Marvel's vision. Read the Sam Raimi Spider-Man reboot comments after the jump.
Raimi dished his thoughts on the upcoming Spider-Man reboot to MTV at Comic-Con:
I'm really glad that Marvel is taking it to high school. I think that's gonna be refreshing, and just like my favorite of the Spider-Man comic-books. And I have a lot of faith that they really know their stuff. [...] The difficulty of going through high school is so unique to a superhero. It's unique and that's what Spider-Man is all about, so that they're gonna explore that head on is very exciting.
Raimi also confirmed he'd seen the last incarnation of the franchise, Marc Webb's Amazing Spider-Man movies. "I saw 'em both, they're great." Indeed, he told press in 2013 that he "loved" the first film.
MTV previously got Webb to comment on the upcoming Spider-Man reboot as well. He told them he was "really psyched" for the upcoming film, though he also admitted it was a little "sad" to let go of the franchise.
The new Spider-Man is being directed by Jon Watts (Cop Car), with Tom Holland as the latest version of the wisecracking webslinger. John Francis Daley and Jonathan M. Goldstein are in talks to write the script.
Marvel head Kevin Feige has gone out of his way to point out the new film's emphasis on Peter Parker's high school years, describing it as a sort of "John Hughes" movie. It's also confirmed that Spider-Man will not be an origin story (thank God).
The new Spider-Man makes his debut in next year's Captain America: Civil War, before getting his own standalone film on July 28, 2017.