'Star Wars: The Force Awakens' LEGO Sets Details Tease New Vehicles And Characters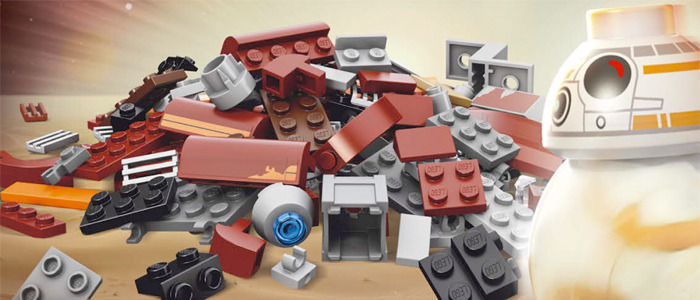 Just last week, some leaked photos of LEGO sets from Star Wars: The Force Awakens revealed a couple new characters that we previously didn't know about. A new character named Tasu Leech was revealed, along with a member of a group called the Kanjiklub gang, though details are scarce on how they might be involved in Episode VII.
Now details on even more LEGO sets coming to shelves on Force Friday this September have been revealed, teasing new vehicles and new characters from the continuing sci-fi saga. There may be some minor spoilers in the LEGO set specs, so beware from here on out.
Get the details on The Force Awakens LEGO sets after the jump!
Here's the list of new LEGO sets with minifigure details from RebelScum.com:
75099 – Rey's Speeder with Rey and Unkar Henchman mini figures
75100 – First Order Snowspeeder with First Order Snowrtrooper x2 and Snowtrooper Officer mini figures
75101 – First Order Special Forces TIE Fighter with First Order TIE Fighter Pilot x2, First Order Officer, and First Order Ground Crew mini figures
75102 – Poe's X-Wing Fighter with Poe Dameron, BB-8, Resistance X-Wing Pilot, and Resistance Ground Crew mini figures
75103 – First Order Transporter with Resistance Soldier x2, First Order Flametrooper x2, First Order Stormtrooper x2, and Captain Phasma mini figures
75104 – Kylo Ren's Command Shuttle with Kylo Ren, General Hux, 2x First OrderOfficer, and 2x First Order Crew mini figures
75105 – Millennium Falcon with Rey, Finn, Han Solo, Chewbacca, BB-8, Tasu Leech, and Kanjuklub Gang Member mini figures
As you can see, the previously detailed Millennium Falcon and black and orange X-Wing are listed here. But the new vehicles include a First Order Snowspeeder, that will likely be used wherever that snowy First Order base is located in the second teaser trailer. There's also a First Order Transporter, which could be one of the ships of which we've seen the interior in the recently released behind the scenes sizzle reel, and Kylo Ren's command shuttle, which can be seen in the second teaser trailer as well.
As for characters, there's a lot of First Order troopers of varying ranks, but one of the other new characters comes with the LEGO set for Rey's speeder. In addition to a Rey minifigure, there's also a character called an Unkar Henchman. We've never heard the "Unkar" name in the Star Wars universe before, so maybe it's a new alien race native to Jakku? Star Wars Underworld has a theory tied to this image from Star Wars Celebration this year: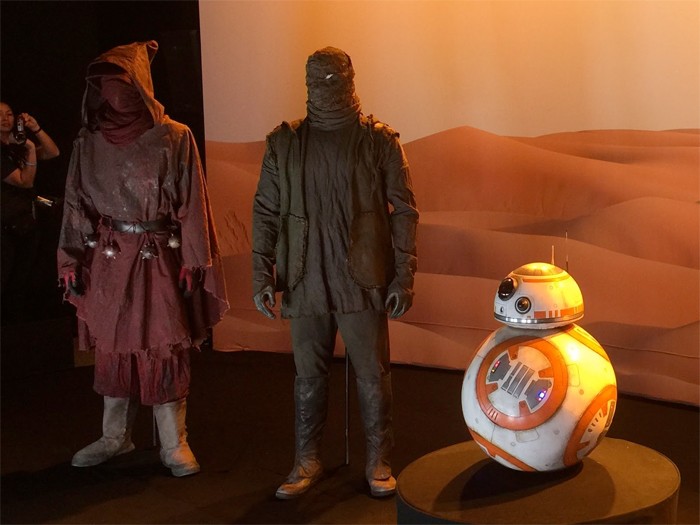 The above image comes from The Force Awakens exhibit that was on display at the Star Wars convention with the costumes next to BB-8 labeled as "Desert Nomad" and "Junkyard Thug." The site theorizes that one of these generically labeled costumes could be for the Unkar henchman, but that's just speculation at this point. But if the figure comes with Rey's speeder set, you can bet we'll see them in one of the sequences on Jakku.
As we get closer and closer to Force Friday, we'll be getting more and more glimpses into The Force Awakens thanks to the toys hitting shelves this fall. We'll do our best to keep spoilers away from sensitive eyes and ears, but stay tuned for all the latest details on Star Wars.