Sorry, There's No 'Freaks And Geeks' Reunion In 'Vacation'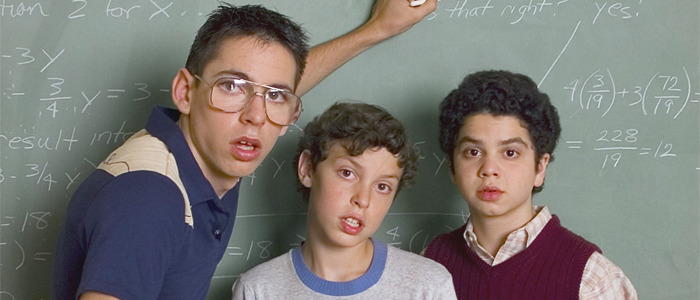 Late July brings the reboot of the comedy classic National Lampoon's Vacation. This time it's Ed Helms leading the new take, simply called Vacation, playing a grown-up Rusty Griswold bent on taking his own family on a trip to Walley World in an effort to bring them closer together.
There are plenty of little references to the original flick, including appearances by Chevy Chase and Beverly D'Angelo, but something else that we were looking forward to in the movie was a mini Freaks and Geeks reunion.
The cult classic NBC series starred a young John Francis Daley, who is now a successful screenwriter with writing partner Jonathan Goldstein, and the two actually make their directorial debut on Vacation. Last fall, Daley said that fellow geeks Martin Starr (Silicon Valley) and Samm Levine (Selfie) would be appearing with him in cameos. But it turns out those cameos didn't end up in the final cut.
Find out more about the axed Freaks and Geeks reunion in Vacation after the jump!
First, here's what Daley revealed last fall:
"I don't know if anyone even knows this yet, but Samm Levine, and it's looking like Martin Starr, will also be in the film. I don't know if they've been confirmed yet in the cast, but it's looking really good. I just wanted a chance to get the three geeks [from Freaks and Geeks] back together, in the same project."
So how do we know that they don't appear in the film? Peter Sciretta and I were lucky enough to attend an advanced screening of Vacation at Comic-Con, and both Daley and Goldstein were around afterwards for a Q&A. Since I didn't spot Samm Levine or Martin Starr in the movie, I asked what happened to the Freaks and Geeks reunion.
Daley explained that Starr and Levine were definitely on hand to shoot cameos for a sequence that took place at Burning Man, the crazy festival that happens in the Nevada desert each year. However, the sequence apparently didn't work; it wasn't as funny as they hoped it would be in the final cut of the movie. So that bit was taken out. You can actually still see remnants of the sequence in these shots from the trailers cut from the final film:
The good news is that fans still hoping to see the Freaks and Geeks mini-reunion will still get that chance in the deleted scenes special feature when Vacation hits Blu-Ray and DVD. And maybe Daley and Goldstein will be able to fenagle cameos in the forthcoming Spider-Man, since they've just been confirmed to write the comic book reboot for Sony. In the meantime, if you haven't seen it yet, watch the most recent trailer for Vacation:
Following in his father's footsteps and hoping for some much-needed family bonding, a grown-up Rusty Griswold (Ed Helms) surprises his wife, Debbie (Christina Applegate), and their two sons with a cross-country trip back to America?s "favorite family fun park," Walley World.
Vacation hits theaters on July 29th.