'Digging For Fire' Trailer: Joe Swanberg Sends Jake Johnson Digging Up Trouble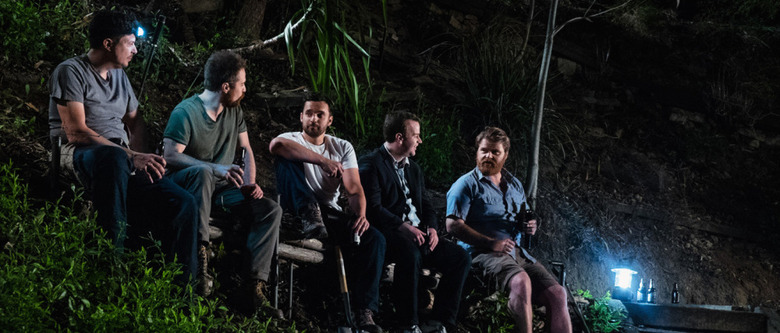 After finding success with low-key, naturalistic indies like Drinking Buddies and Happy Christmas, Joe Swanberg is back with what appears to be his biggest film yet. But because he's Joe Swanberg, it's still a pretty low-key, naturalistic indie. Digging for Fire stars Jake Johnson and Rosemarie DeWitt as an L.A. couple still getting used to parenthood.
While housesitting for a friend one weekend, the husband digs up a bone and a gun, sending him on a quest for answers. Meanwhile, the wife sets off on her own adventure involving a handsome stranger played by Orlando Bloom. Watch the Digging for Fire trailer after the jump.
Fandango debuted the Digging for Fire trailer.
What makes Digging for Fire feel big (for Swanberg) is its cast. By the standards of a Sundance dramedy, this is a dazzlingly star-studded affair. Besides Johnson, DeWitt, and Bloom, the film also stars Jane Adams, Mike Birbiglia, Sam Elliott, Anna Kendrick, Brie Larson, Judith Light, Ron Livingston, Melanie Lynskey, Chris Messina, Sam Rockwell, Timothy Simons, and Jenny Slate.
And to be sure, Swanberg has grown more accessible and mainstream since his early days as a mumblecore filmmaker. Based on the reviews out of Sundance, Digging for Fire looks like another step in that direction. For one thing, it seems to be more plot-driven than his usual fare.
But it still looks very much like a Swanberg film, with semi-improvised performances and a comfortable hangout vibe. More imoprtantly, the emphasis remains on small moments and nuanced relationships. The bone and the gun could be the start of a murder mystery – and the husband seems to think, or at least hope, it is – but instead the answers these people are really looking for are existential. After a summer full of movies about saving the world, an introspective dramedy could be just the palate cleanser we need.
Digging for Fire opens August 21, 2015.