'Queen Of Earth' Trailer: Elisabeth Moss Goes Off The Deep End [UPDATED]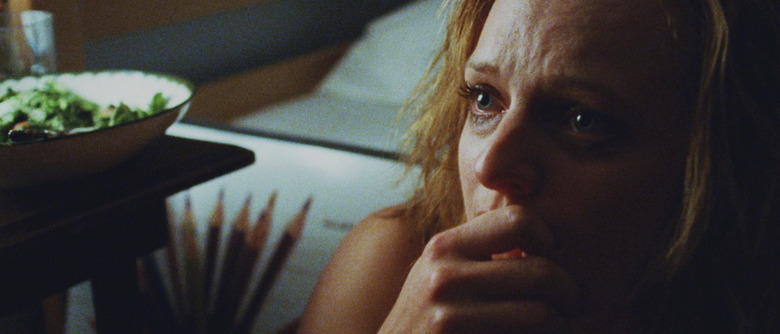 As Emmy voters recognize Elisabeth Moss one last time for her work on Mad Men, she's already moved on to a thriving post-Sterling Cooper career. She'll be seen later this summer in Queen of Earth, Alex Ross Perry's psychological thriller about a woman unraveling at her friend's beach house. Watch the Queen of Earth trailer after the jump. \
Update (7/24/15): A new domestic trailer has hit; check it out below.
Here's an international version of the Queen of Earth trailer, which is in English with French subtitles. We'll update you with a domestic trailer once one becomes available.
Update (7/24/15): And here's the domestic trailer via Apple.
Moss did fine work in her last film with Perry, the acid character study Listen Up Philip. It's exciting to see them team up again, especially as she gets to have a more central role this time. And if this trailer is any indication, we have another excellent performance from her to look forward to.
Queen of Earth gets a limited rollout from IFC Films starting August 25, 2015. Katherine Waterston plays Moss' best friend, and Patrick Fugit and Kentucker Audley also star.
Catherine has entered a particularly dark period in her life: her father, a famous artist whose affairs she managed, has recently died, and on the heels of his death she's dumped by her boyfriend James. Looking to recuperate, Catherine heads out to her best friend Virginia's lake house for some much needed relaxation. However, once Catherine arrives relaxation proves impossible to find, as she is overcome with memories of time spent at the same house with James the year before. As Catherine reaches out to Virginia with attempts at connection, Virginia begins spending increasing amounts of time with a local love interest, Rich, and fissures in the relationship between the two women begin to appear, sending Catherine into a downward spiral of delusion and madness. A bracing, eerie look at the deep bonds of friendship and the horrific effects of such bonds being frayed, "Queen of Earth" is a thrilling examination of a deeply complex relationship between two miserable women.