'Lego Batman' Casts Michael Cera As Lego Robin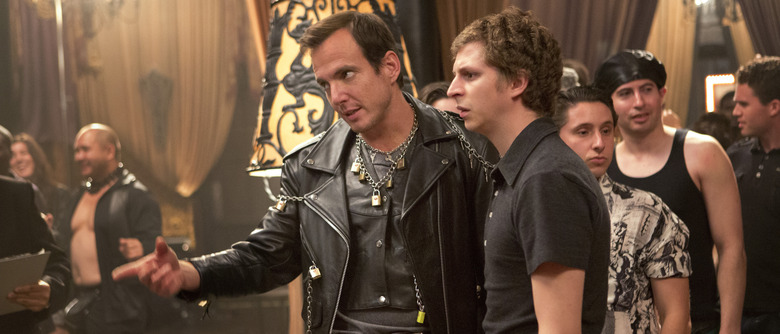 Lego Batman has found his Lego sidekick. Michael Cera will voice the role of Robin in Warner Bros.' upcoming Lego Batman feature. He joins Will Arnett, who reprises his role as the Caped Crusader from last year's The Lego Movie. More details on the Lego Batman Michael Cera casting after the jump. THR reports Cera has closed a deal to play Batman's partner / protege Robin. Chris McKay, who served as animatino supervisor on The Lego Movie, is directing the Lego Batman movie from a script by Seth Grahame-Smith. Phil Lord, Chris Miller, Roy Lee, and Dan Lin are producing.
Arnett and Cera previously worked together on Arrested Development, which makes me wonder if they could just populate the entire Lego Batman cast with AD alums. Imagine Jeffrey Tambor as Alfred, Judy Greer as Catwoman, or Tony Hale as the most ineffectual Joker in superhero history.
Batman was one of the breakout characters of The Lego Movie. The self-absorbed minifig put a fresh, funny spin on the grim interpretation of the Dark Knight that's currently in vogue. But the character hasn't always been portrayed that way, and in interviews Miller has said the Lego Batman movie would "acknowledge every era of Batman filmmaking."
Plot specifics on the Lego Batman movie are still under wraps. However, Lord has teased that the film would center around the question of whether Batman could ever truly be happy. "Batman is the ultimate in white people problems," he said earlier this year. "He's like, 'oh, I'm so rich and handsome, women like me and I've got a Maclaren! Something about my parents!"
Cera will be heard next year in Sausage Party, an animated ensemble comedy, and has had a recurring voice role on the comedy series Childrens Hospital since 2008. He was last seen in David Cross' indie Hits, and will soon return as George Michael Bluth in the planned fifth season of Arrested Development.
The trade additionally notes that Cera is about to branch into directing. Recently he picked up the rights to Charles Portis' Masters of Atlantis for himself to star in, write, and direct.
The Lego Batman spinoff is set to open February 10, 2017, having leapfrogged over the planned Lego Movie sequel.