'Wet Hot American Summer: First Day Of Camp' Introduces The Camp Firewood Staff In New Trailer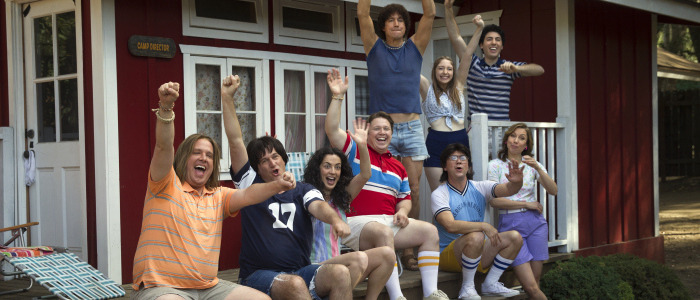 Netflix is getting you primed for Wet Hot American Summer: First Day of Camp with another new promo, this time introducing the camp counselors. Not that they really need any introduction. Back in 2001, the Camp Firewood staff consisted of up-and-coming comedians, but these days they're much more famous. Heck, one of them has his own goddamn superhero movie opening this weekend.
But we're not about to complain. Life is long but camp is short, and any extra time we can squeeze in with the Camp Firewood counselors is good with us. Watch the new Wet Hot American Summer camp counselors promo after the jump. 
Mixed in with the returning faces are a couple of new ones, including Jason Schwartzman (who plays boys' head counselor Greg) and Lake Bell. It should be fun to see them bounce off of this crew — and to find out what terrible fate befell them that they're not even mentioned in the original Wet Hot American Summer movie, which takes place two months later.
Wet Hot American Summer: First Day of Camp hits Netflix July 31.
The staff at Camp Firewood are more than just counselors – they're your summer family. Get to know them now.
Join us July 31 for Wet Hot American Summer: First Day of Camp, a limited 8-episode series coming to Netflix.
An all-star cast delivers big laughs in this irreverent spoof of summer camp and '80s teenager movies. We've seen the last day of summer in the classic original film, now discover the events that shaped these iconic characters on the first day of Camp Firewood's season.
Elizabeth Banks, Michael Ian Black, Bradley Cooper, Judah Friedlander, Janeane Garofalo, Joe Lo Truglio, Ken Marino, Christopher Meloni, Marguerite Moreau, Zak Orth, Amy Poehler, David Hyde Pierce, Paul Rudd, Molly Shannon, and Michael Showalter join together with new characters played by Jon Hamm, Kristen Wiig, John Slattery, and more. It's going to be an unforgettable day of events in Wet Hot American Summer: First Day of Camp!