'Pan' Trailer: Joe Wright Unveils A Colorful Vision Of Neverland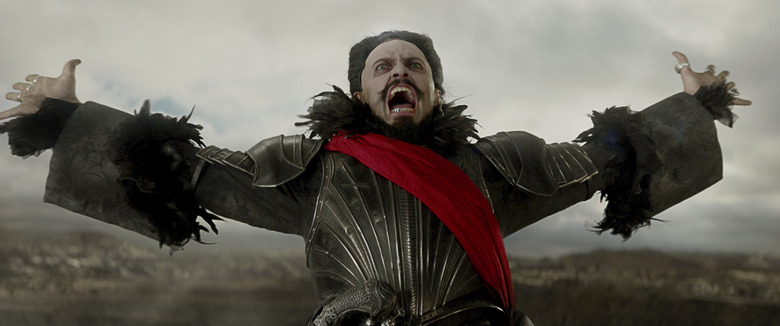 Our next live-action fairy tale retelling comes not from Disney, but from Warner Bros. and the mind of Joe Wright. Pan is an origin story of sorts for both Peter Pan (Levi Miller) and his mortal enemy, Captain Hook (played here by Garrett Hedlund in dashing Indiana Jones mode). Rounding out the cast are Rooney Mara as Tiger Lily and Hugh Jackman as Blackbeard. Watch the Pan trailer after the jump.
Warner Bros. debuted the Pan trailer on YouTube. It seems to be the same reel that played at Comic-Con this past weekend, or something very close to it.
If Harry Potter were remade as a Pirates of the Caribbean prequel, it might look a little something like Pan. Visually, there's a lot to like here. The world looks colorful and rich, if a bit over-reliant on CG magic. But the story of a special little boy who fulfills a prophecy feels overly familiar, and (through no fault of Miller's) this particular little boy is much less interesting than the larger-than-life personalities surround him.
Pan sails into theaters October 9, 2015.
From director Joe Wright ("Atonement," "Pride & Prejudice") comes "Pan," a live-action feature presenting a wholly original adventure about the beginnings of the beloved characters created by J.M. Barrie. Peter (Levi Miller) is a mischievous 12-year-old boy with an irrepressible rebellious streak, but in the bleak London orphanage where he has lived his whole life those qualities do not exactly fly. Then one incredible night, Peter is whisked away from the orphanage and spirited off to a fantastical world of pirates, warriors and fairies called Neverland. There, he finds amazing adventures and fights life-or-death battles while trying to uncover the secret of his mother, who left him at the orphanage so long ago, and his rightful place in this magical land. Teamed with the warrior Tiger Lily (Rooney Mara) and a new friend named James Hook (Garrett Hedlund), Peter must defeat the ruthless pirate Blackbeard (Hugh Jackman) to save Neverland and discover his true destiny—to become the hero who will forever be known as Peter Pan.