'Legend' UK Trailer: Tom Hardy Plays A Smooth Gangster, And A Psychopath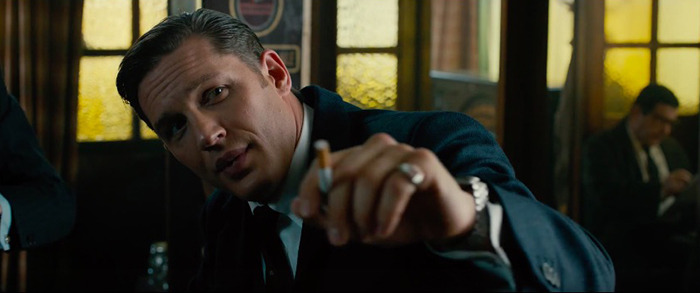 There's a new Legend UK trailer, showing off the film featuring the dual performance from Tom Hardy that should satisfy even the most rabid fan of the actor.
And if you've not seen a prior trailer for Legend, Tom Hardy plays both Reggie and Ronnie Kray, the gangster twins who took over parts of London's rackets in the '60s. Hardy is smooth as the ambitious Reggie, and adopts a bit of the old Marlon Brando "cotton in the mouth" technique to play the violent Ronnie. This trailer has more story than the teaser, and new footage not seen in the last US trailer; have a look below.
Legend opens in the US on October 2. Trailer via StudioCanal UK. Emily Browning, Taron Egerton, Christopher Eccleston, Paul Anderson, David Thewlis, Chazz Palmenteri and Colin Morgan co-star.
From Academy Award® winner Brian Helgeland (L.A. Confidential, Mystic River) comes the true story of the rise and fall of London's most notorious gangsters, Reggie and Ron Kray, both portrayed by Tom Hardy in an amazing double performance. Legend is a classic crime thriller taking us into the secret history of the 1960s and the extraordinary events that secured the infamy of the Kray twins.
Written and directed by Helgeland, the Studiocanal, Working Title and Cross Creek film co-stars Emily Browning, David Thewlis, Christopher Eccleston, Chazz Palminteri, Tara Fitzgerald and Taron Egerton. Working Title Film's Tim Bevan and Eric Fellner produce Legend alongside Chris Clark, Quentin Curtis and Cross Creek Pictures' Brian Oliver. Universal will release the thriller in the U.S., and Studiocanal will distribute in the U.K., France, Germany and Australia/New Zealand.