Disney Developing 'Aladdin' Prequel 'Genies'; 'Aladdin' Movie Could Follow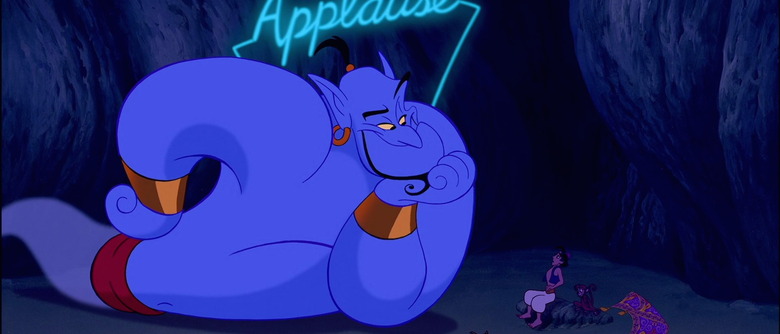 Tinker Bell's getting a spinoff, Cinderella's prince is getting a spinoff, and now Aladdin's Genie is getting a spinoff, too. (Which we totally called, by the way.) Disney is developing Genies, a live-action comedy adventure that'll reveal how the jolly blue giant wound up in that tiny little lamp.
And don't worry, Aladdin isn't getting left out in the cold here either. The tentative plan is for Genies to eventually lead into an Aladdin live-action movie. More details on the Aladdin Genie movie after the jump.
THR reports Genies is being written by Damian Shannon and Mark Swift. Tripp Vinson is producing. No director or stars have been announced, and there's no word yet on a start date or release date.
Based on an Arabic folk tale, Disney's 1992 animated feature Aladdin followed a street urchin who picks up a lamp containing a friendly Genie (famously voiced by Robin Williams) with the power to grant wishes. With the Genie's help he wins the heart of Princess Jasmine, and he uses his final wish to set the Genie free.
Genies will delve into the realm of the Genies, and explain how this particular Genie came to end up in Aladdin's lamp. If all goes according to plan, the film will also set up a live-action Aladdin movie.
Disney's made a lot of money mining its animated vault for live-action source material. Maleficent (a Sleeping Beauty retelling) and Cinderella were both hits, and updated versions of The Jungle Book, Beauty and the Beast, Mulan, and Pinocchio are on the way.
Shannon and Swift are mostly known for horror movies including Freddy vs. Jason and Friday the 13th. However, they've recently branched out into comedy, working on the long-gestating Baywatch movie and the Peter Dinklage leprechaun pic O'Lucky Day. Both of those are set up at Paramount.
Vinson executive produced this summer's San Andreas, and is working on a couple of upcoming Disney projects including Prince Charming and Bob the Musical. He previously served as exec producer on Hansel & Gretel: Witch Hunters.