Francis Lawrence Eyes Former Darren Aronofsky And David Fincher Project 'Red Sparrow'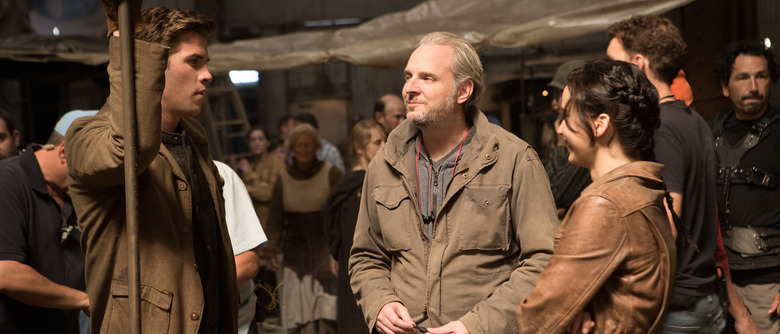 Now that the Hunger Games movies are just about done, director Francis Lawrence is making plans for post-Panem life. One project on his radar is Red Sparrow, a spy thriller that previously had Darren Aronofsky and then David Fincher circling. More about the Francis Lawrence Red Sparrow movie after the jump.
Deadline reported on the possible Francis Lawrence Red Sparrow project. (They actually mentioned it a few days ago, but the news got lost in the Comic-Con shuffle.) Lawrence is reportedly eyeing the Jason Matthews adaptation, which has a script by American Hustle's Eric Warren Singer.
Red Sparrow has been floating around for a while. Aronofsky entered early talks to helm in 2013, but had moved on by early 2014. Then Fincher showed some interest in picking up the project, perhaps as a reunion with his The Girl With the Dragon Tattoo star Rooney Mara. But those negotiations didn't get anywhere either.
The thriller follows two intelligence agents in modern-day Russia. Dominika Egorova is a Russian "Sparrow" who uses her seduction skills against CIA officer Nathaniel Nash. But when Dominika and Nathaniel begin to develop genuine feelings, their relationship puts them and everyone around them at risk.
The dark tone and political maneuvering should be familiar territory for Lawrence, who's been with the Hunger Games franchise since its second installment. His other credits include Constantine, I Am Legend, and Water for Elephants.
That is, if he closes his deal to direct. Coming off of the billion-dollar Hunger Games franchise, Lawrence has a number of other options. In January we heard he might re-team with his Hunger Games star Jennifer Lawrence for the James Cameron-produced The Dive, and more recently there was word he could helm an adaptation of Homer's Odyssey.
While he makes up his mind, he'll continue putting the finishing touches on The Hunger Games: Mockingjay – Part 2, which closes out the franchise (for now, at least) on November 20, 2015.