Shanghai Disneyland Attractions Announced [See Photos And Video]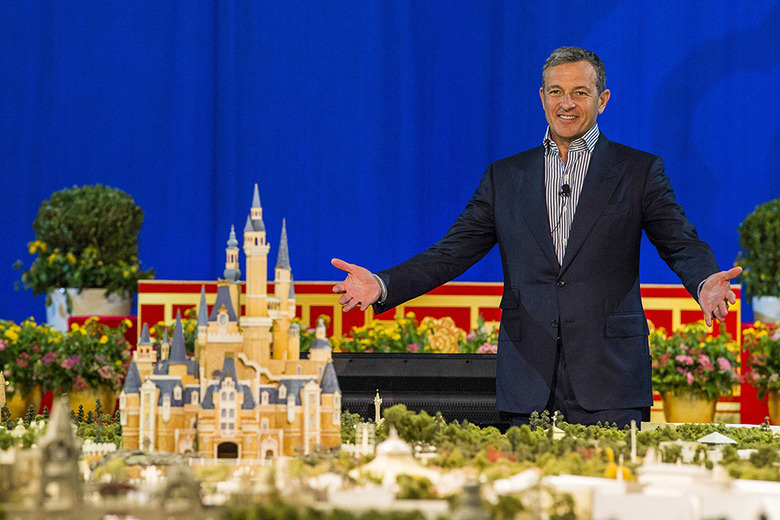 This morning, Disney officially announced the lands, attractions and hotels for opening day of Shanghai Disneyland Resort. Hit the jump to find out what to expect at Shanghai Disney when the park finally opens in Spring 2016.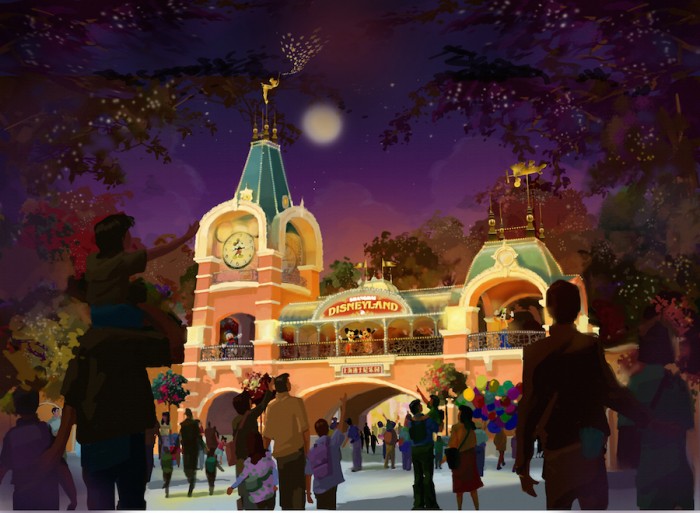 This morning, Disney COO Tom Staggs and Walt Disney Parks and Resorts Chairman Bob Chapek and Bob Iger shared a first official look at what the Shanghai Disneyland Resort will look like, unveiling a scale model showcasing two hotels, their international shopping, dining and entertainment district called Disneytown (instead of Downtown Disney) , Wishing Star Park's beautiful gardens and the six themed lands of the new theme park Shanghai Disneyland.
"We are building something truly special here in Shanghai that not only showcases the best of Disney's storytelling but also celebrates and incorporates China's incredibly rich heritage to create a one-of-a-kind destination that will delight and entertain the people of China for generations to come," said Iger speaking to media during today's presentation at the Shanghai Expo Centre. "We are taking everything we've learned from our six decades of exceeding expectations – along with our relentless innovation and famous creativity to create a truly magical place that is both authentically Disney and distinctly Chinese."
Here is a breakdown of the lands of Shanghai Disneyland:
Fantasyland: The largest land of the theme park will feature the following attractions:
Enchanted Storybook Castle as "the tallest, largest and most interactive castle at any Disney theme park."  It will feature a winding staircase leading guests on a "Once Upon a Time Adventure" as well as retail, dining and entertainment.
Guests will board boats on Voyage to the Crystal Grotto to float through familiar Disney stories.
A Chinese version of the Seven Dwarfs Mine Train which recently made its debut in Orlando's Magic Kingdom.
The popular dark ride Peter Pan's Flight, which takes guests on a magical flight over London into Neverland.
Guests can also explore the Hundred Acre Wood with Winnie the Pooh or follow Alice through a dazzling Wonderland maze.
Treasure Cove: The first pirate-themed land in a Disney park. It will feature:
Pirates of the Caribbean: Battle of Sunken Treasure is an attraction that transforms a boat ride into a thrilling journey with cutting-edge innovations in robotics, animation, set design and multimedia. The attraction will feature a combination of new technology and innovation and will "take guests on a pirate adventure with Captain Jack Sparrow and Captain Davy Jones, providing an experience unlike anything else in the world."
"Eye of the Storm – Captain Jack's Stunt Spectacular" a new stunt show.
Adventurous spirits will be tempted to board a pirate ship, paddle through the scenic cove on Explorer Canoes and dine at Barbossa's Bounty.
Adventure Isle will immerse guests in a newly discovered lost world, filled with hidden treasures and a chance to explore its mysteries. The mighty Roaring Mountain will tower over guests and beckon them on their journey.
Guests can blaze their own trails at Camp Discovery.
Soaring over the Horizon brings the popular Soaring ride from Disney California Adventure and EPCOT, but with a new ride film that takes guests on a tour around the world.
Roaring Rapids is a "thrilling rafting adventure," straight through the heart of Adventure Isle. Guests will discover the underworld realm of a mysterious, fearsome creature.
Tarzan, Call of the Jungle, an acrobatic stage show
Tomorrowland: Looks more like the futuristic city we see in Brad Bird's Tomorrowland movie than any of the other theme park versions of Tomorrowland.
TRON Lightcycle Power Run is a rollercoaster ride which allows guests to board Tron cycles. It looks like a very different experience between day and night. The ride will feature a massive, color-shifting canopy.
Buzz Lightyear Planet Rescue is a new space ranger adventure.
Jet Packs is a new kiddie attraction which lets you fly in circles.
Mickey Avenue will be "the first main entry at a Disney park inspired by the colorful personalities of Mickey Mouse and his pals."
In the neighborhoods of this welcoming, whimsical avenue, guests will share a hug and get a photo with some all-time favorite Disney characters. Avenue M Arcade, one of the many shops along the avenue, will feature the largest selection of gifts and collectibles inside the theme park.
Gardens of Imagination will "celebrate the wonders of nature and the joy of imagination, as guests leave everyday life behind to enjoy the seven whimsical gardens."
Fantasia Carousel is a traditional carousel ride.
Dumbo the Flying Elephant allows guests to ride in circles on the back of Dumbo, a classic Disney attraction.
Entertainment such as Castle stage shows and "Ignite the Dream, a Nighttime Spectacular of Magic and Light."
Mickey's Storybook Express is "an exciting parade with its own musical soundtrack and colorful performers on the longest parade route in a Disney park."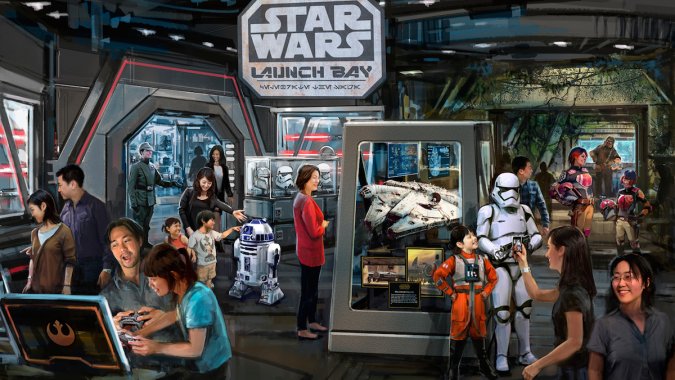 Two new experiences, Star Wars Launch Bay and Marvel Universe, have also been created for Shanghai Disneyland:
Star Wars Launch Bay will allow visitors to meet the heroes and villains of the Star Wars saga past present and future, visit intergalactic set-pieces, view props from the most recent film, and take part in some kind of "cinematic experience."
Marvel Universe will allow guests to attend a multimedia mission briefing in the world of Marvel, meet popular Marvel superhero characters, and learn to draw their favourite characters in the style of the Marvel comic book artists.
The Shanghai Disneyland resort will also feature two hotels: Shanghai Disneyland Hotel and Toy Story Hotel.
The topping out of Shanghai Disneyland Hotel took place just 12 months after its vertical construction started. With 420-rooms, it will be the signature hotel of Shanghai Disney Resort, featuring an elegant Art Nouveau style with a touch of Disney magic and imagination, and stunning views of Shanghai Disneyland, Disneytown and the resort's central lake.
Thanks to Inside The Magic for some of the videos. Shanghai Disney Resort will have its Grand Opening in spring of 2016.