Spike Lee's 'Chi-Raq' Will Be Amazon's First Film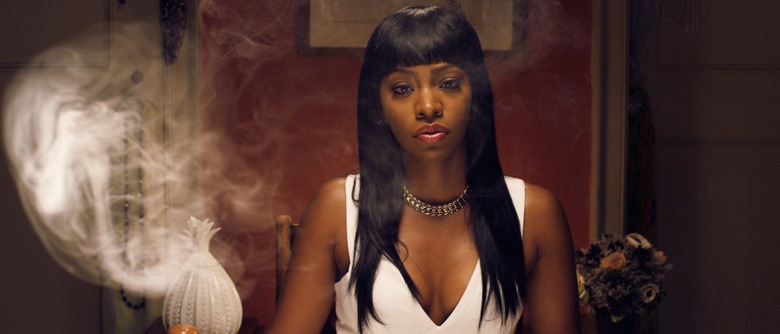 Not to be outdone by Netflix, Amazon is also jumping into the original features game. Their first foray into that realm will be Chi-Raq, Spike Lee's contemporary retelling of the classical Greek play Lysistrata.
The company's latest statement on the project reveals some new details, including a full cast list that includes Teyonah Parris, Angela Bassett, John Cusack, and Samuel L. Jackson. Get all the details on the Amazon Chi-Raq project after the jump. 
Amazon Studios got on board with Chi-Raq some time ago, but today the company formally announced the film as part of its upcoming slate. Shooting on Chi-Raq took place entirely in Chicago, and wrapped last week.
Parris leads the cast as a woman who battles gun violence in Chicago by going on a sex strike. The rising actress made a big impression on AMC's Mad Men as one of the show's few significant characters of color, and was one of four leads in last year's sharp indie comedy Dear White People (pictured above).
The title refers to the comparison between inner-city Chicago and war-torn Iraq. It's a somewhat controversial term, as some in the community (including mayor Rahm Emanuel) have protested that it paints them in an unflattering right.
Starring alongside Parris, Bassett, Cusack, and Jackson will be Wesley Snipes, Jennifer Hudson, Nick Cannon, D.B. Sweeney, Harry Lennix, and Steve Harris. Lee wrote the script with Kevin Willmott. It's described as being in a "lyrical" style like Shakespeare, which seems to explain earlier reports that Chi-Raq would be a musical.
According to THR, Amazon Studios was initially eyeing a 2016 Cannes bow for Chi-Raq, but have since decided that they're too excited to sit out this year's awards race. Chi-Raq will receive a qualifying theatrical run in December and a wider release in early 2016. It's expected to hit Amazon streaming shortly after its theatrical debut, though specific dates have not been given.