Star Wars Bits: Comic-Con, Amy Schumer, Jakku, Han Solo, George Lucas At D23 And More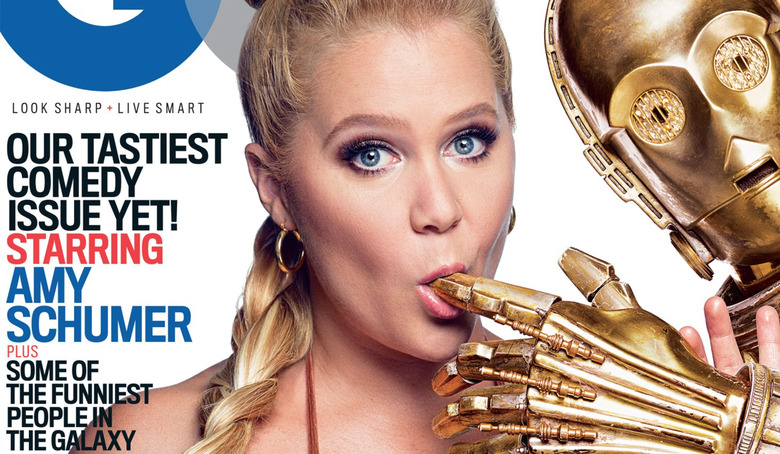 The ability to destroy a planet is insignificant next the power of Star Wars Bits. This week's news from a galaxy far, far away includes the following:
Details on The Battle of Jakku and more post-Return of the Jedi info
Harrison Ford gives advice to new co-stars, uses lightsaber as a cane
New info on Han Solo and Chewie in The Force Awakens
BB-8 on the cover of Make magazine
Comic-Con interviews with J.J. Abrams and cast
George Lucas to be honored at D23
Science Channel ILM documentary special teaser clip
Kevin Smith got screwed by Star Wars at Comic-Con
Production designer talks mandate for authenticity in Episode VII
Amy Schumer's saucy Star Wars photoshoot for GQ
New details on Star Wars Battlefront gameplay
Gary Whitta on Star Wars and the Comic-Con experience
Header image: GQ photoshoot with Amy Schumer (find more on the second page)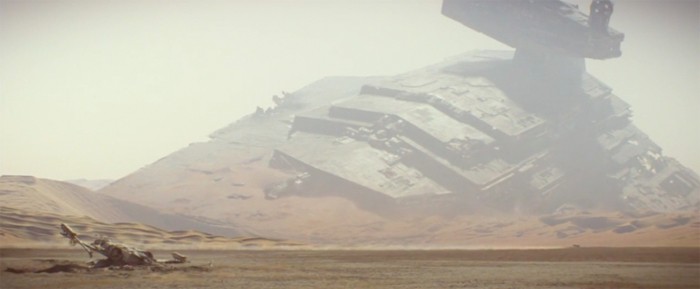 Some details on what happened in the Star Wars universe after Return of the Jedi have surfaced thanks to a new rundown from MakingStarWars.net. They include facts on the state of the Empire following the destruction of the Death Star, the Battle of Jakku, and much more. This information is supposedly reliable, and may contain spoilers for The Force Awakens, so beware if you decide to read.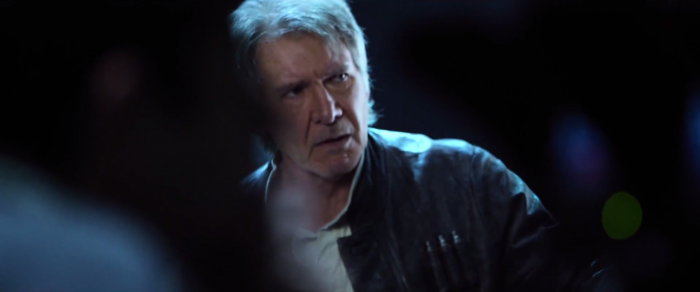 Harrison Ford had some pretty valuable advice to his new, young Star Wars co-stars, pulled specifically from his own experience after playing Han Solo in the original Star Wars trilogy. He makes some funny little remarks here and there, but he does explain the genuine advice he gave to Daisy Ridley specifically:
Speaking of Han Solo, at the surprise Star Wars concert, Harrison Ford jokingly used a lightsaber as a cane:
And Carrie Fisher also had some lightsaber action of her own: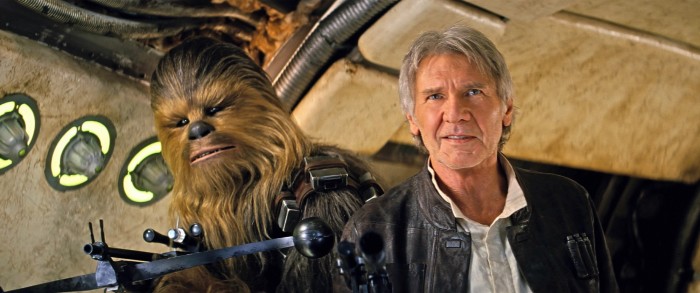 New details on where we find Han Solo and Chewbacca in Star Wars: The Force Awakens have surfaced over at MakingStarWars.net, including some potential information about the state of the Millennium Falcon. Again, beware of spoiler for The Force Awakens if you go read the article.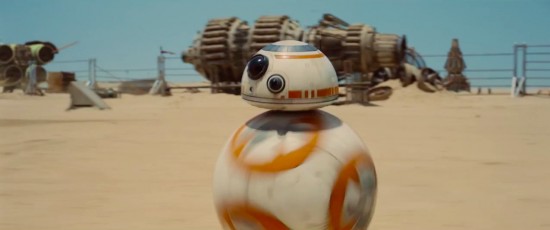 The soon to be favorite new droid from Star Wars: The Force Awakens is featured on the cover of Make magazine for their August/September 2015 issue. Here's what you'll find in the magazine featuring BB-8:
"Move over R2D2! BB-8, the adorable new Star Wars droid, stole the show when it rolled on stage at this year's Star Wars Celebration. In Make: Vol. 46 we show you how three Makers approached building their very own working BB-8 bots, and how you can build one, too!"
Check out the cover image with the little ball droid at MakingStarWars.net.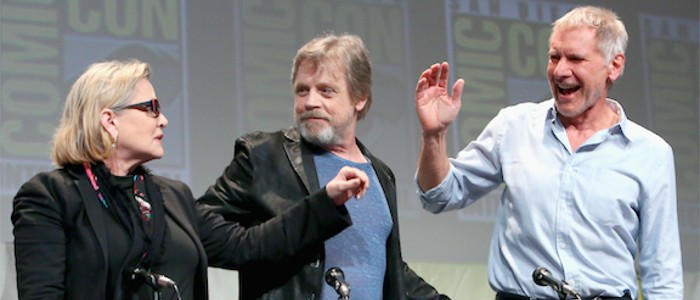 If you're hungry for more of what the stars of Star Wars: The Force Awakens had to say at Comic-Con, several quick interviews are now available online with J.J. Abrams, Kathleen Kennedy, Lawrence Kasdan, Harrison Ford, Gwendoline Christie, Adam Driver, Domhnall Gleeson, John Boyega, Daisy Ridley and Oscar Isaac. We've included a small batch of them right here: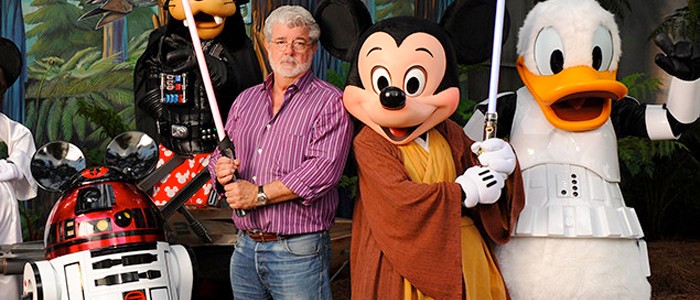 George Lucas is going to be honored at D23 in August with The Disney Legend Award. Bob Iger, Disney Chairman and CEO says, "The Disney Legend Award is our highest honor, and we are incredibly proud to recognize these eight talented individuals who have contributed so much to the world of entertainment and the Disney legacy. Their vision and dedication to their work have brought joy to audiences around the globe and earned them a place in Disney history.
Each honoree receives a two-foot-tall bronze Disney Legends sculpture that signifies the imagination, creativity, and magic they have brought to the Company. Disney Legends Award recipients will also participate in a handprint ceremony at the end of the event, and their bronzed prints will be displayed in the Disney Legends Plaza at the Company's Burbank headquarters.
And speaking of George Lucas, here's a tease of a Science Channel special on ILM:
Raiders, Raptors, and Rebels: Behind the Magic of ILM airs on July 19th.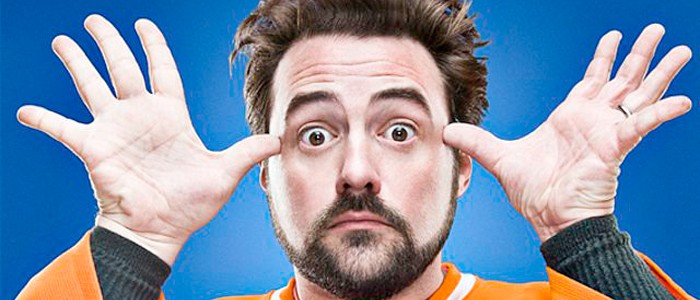 In case you didn't know, there was a surprise Star Wars concert at Comic-Con for everyone in Hall H for the Star Wars panel on Friday, July 10th. However, that left the convention venue completely empty for the next panel, which just happened to be massive Star Wars fan Kevin Smith's annual evening panel, this time promoting his forthcoming movie Yoga Hosers.  A lot of people thought it was a dick move, and Smith himself lamented his position on Twitter:
Oh God. Backstage at #HallH. @starwars panel just invited 6.5k audience to watch a Star Wars concert. Everyone left. pic.twitter.com/kIzfFhWzfY

— KevinSmith (@ThatKevinSmith) July 11, 2015
I feel a grave disturbance in the Force. As if six thousand people were suddenly silenced by a free concert. Might have to cancel my panel.

— KevinSmith (@ThatKevinSmith) July 11, 2015
But thankfully, J.J Abrams apologized afterwards at Comic-Con saying, "Oh my god, I'm so sorry, I feel like Darth Vader." And then according to Smith's Hollywood Babble-On podcast (via Nerd Bastards), Abrams also sent an e-mail saying, "I'm mortified, I'm fucking like I would never do that to anyone, let alone somebody I adore, like you." So it sounds like there's no hard feelings.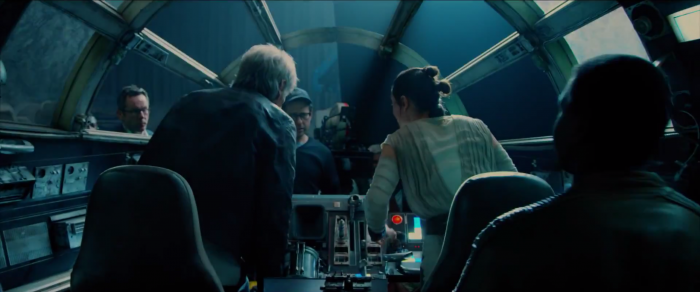 In the behind the scenes sizzle reel for Star Wars: The Force Awakens, you'll find a lot of practical sets, vehicles and creatures being shown off. And the panel at Comic-Con for the film really hit home the authenticity and tangible feel they wanted to have for this new Star Wars movie. Now word from production designer Darren Gilford (Oblivion) explains to Thompson on Hollywood a bit of how important it was for J.J. Abrams to make that happen:
"J.J.'s mandate from day one was authenticity and being as true to the original trilogy as possible. And he felt the prequels were flawed by the fact that they had every [CG] tool known to mankind and used everything at their disposal. I use the metaphor of disco when the synthesizer came about and everyone was using it in any way possible. And I think J.J. wanted to reconnect with how the original films were made."
The efforts to do this included going back and examining how certain effects and shots were pulled off back in the 1970s when George Lucas had limited resources at his disposal, forcing him to get creative with his filmmaking. Gilford explained, "We studied the Death Star set and how John Barry and Norman Reynolds designed [it] to be multi-purpose, the kind of anywhere but everywhere within the Death Star. And that was the motivation of how we did our 'Star Wars' base."
For more from Gilford, read the full article over here.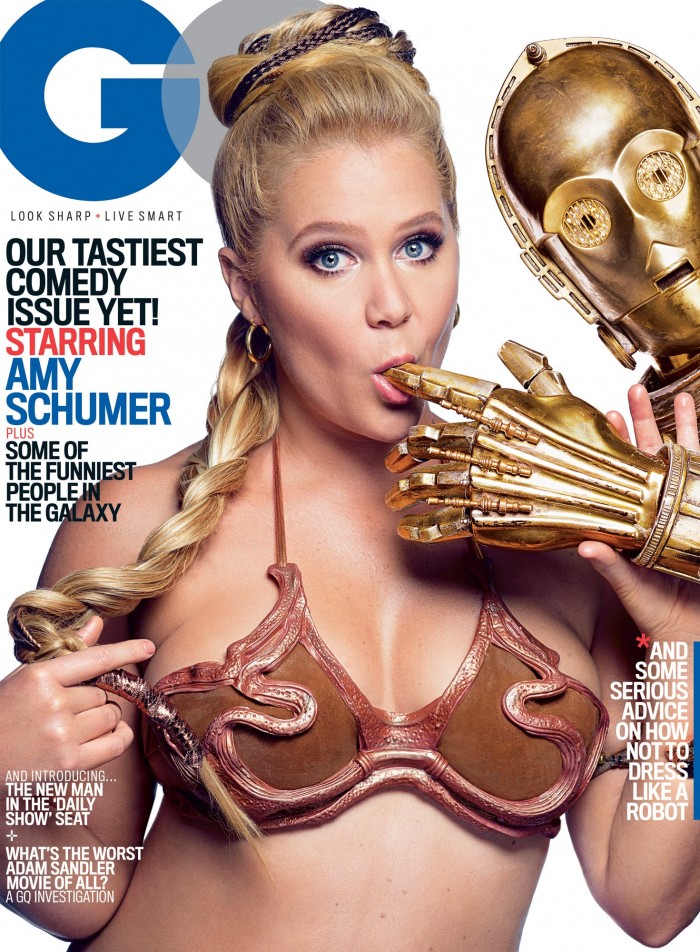 Amy Schumer gets a little dirty with Star Wars in a photoshoot from GQ. Check out more photos, including Schumer doing some provactive things with a lightsaber and C-3PO's fingers in her mouth right over here.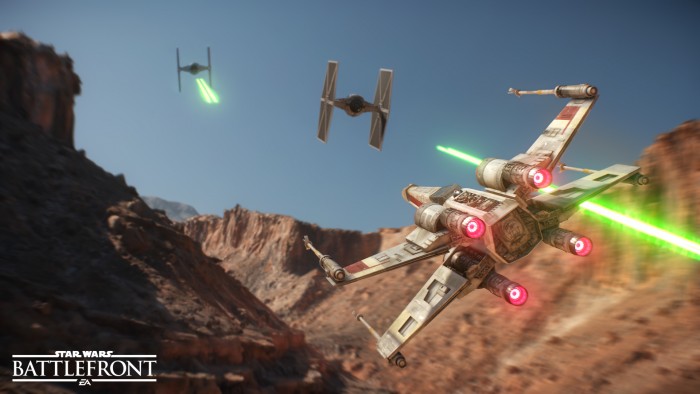 Some more updates on Star Wars Battlefront have surfaced thanks to a blog post from Mathew Everett, the senior product manager and community liaison for DICE and EA. New details include a lack of split-screen playing on PC and also word that the Y-Wings will not be available to be flown by players like the X-Wings. That's a bummer. Find out more at CinemaBlend.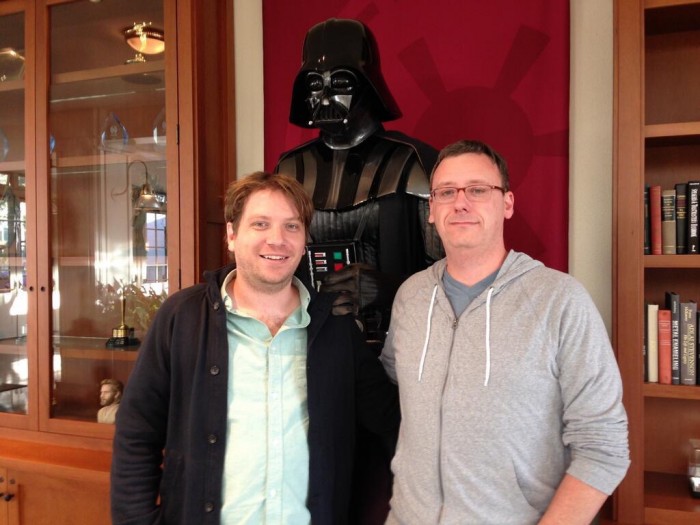 Star Wars: Rogue One writer Gary Whitta (pictured right with director Gareth Edwards) wrote a whole editorial about the awesome experience that was Star Wars at Comic-Con this year, from the panel to the surprise concert for fans, which Whitta attended himself, wielding a lightsaber and everything. In addition to reading our own recap of the event, check out Whitta's fond remembrance of the event over here too.
And if you want to hear more about Star Wars from Whitta, check out IGN's interview with him:
That's it for this edition of Star Wars Bits. Come back for more soon!