'Robot Chicken DC Comics Special 3' Trailer: The Multiverse Gets Broken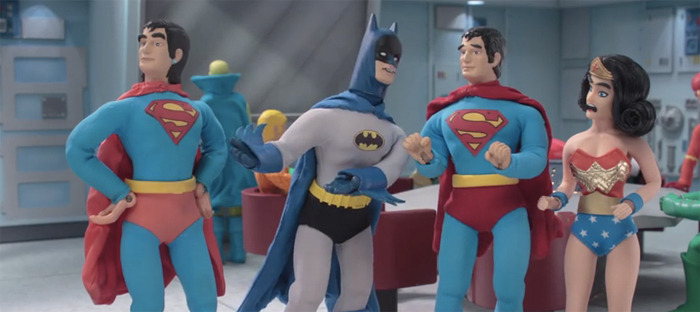 Over on Adult Swim, the stop-motion comedy of Robot Chicken has taken on nearly every facet of pop culture, all with the help of action figures. Now the series from Seth Green and Matt Senreich will return to the world of comic books with their third special focusing on the characters of DC Comics.
Robot Chicken DC Comics Special 3: A Magical Friendship is coming in October, and the first trailer for the special premiered at Comic-Con. But now it's available online for your viewing pleasure, complete with some familiar voices for those who grew up on the classic 1960s version of Batman and Robin.
Watch the Robot Chicken DC Comics Special 3 trailer below!
If action figure comedy is your jam, then you've been waiting for this for awhile. And Robot Chicken is bringing some fun guest stars to the table. In addition to Seth Green, Matt Seinrich and Breckin Meyer doing multiple voices, guest stars include Alfred Molina, Nathan Fillion, Weird Al Yankovic, Alex Borstein, Giovanni Ribisi, Jonathan Banks, Mae Whitman, Hugh Davidson, Dee Bradley Baker, Zeb Wells, Kevin Shinick, and even legendary, classic Batman and Robin stars Adam West and Burt Ward.
As you can see in the trailer, Batman and Superman's bromance takes a competitive turn and the fate of the universe somehow hangs in the balance as the multiverse gets broken, introducing several different versions of all your favorite DC Comics superheroes. This includes an entire Justice League made up of monkeys. Yeah, it's weird as usual.
I've only watched Robot Chicken intermittently, and it's usually pretty entertaining. However, I didn't find much to laugh at in this particular trailer for the third DC Comics special, though the tag at the end with Catwoman was fairly amusing. I'm not sure if the Robot Chicken crew is starting to run out of steam after seven seasons and several Star Wars and DC Comics specials, or maybe I'm just not as easily entertained by the show any more.
The special is directed by Tom Sheppard (Annoying Orange) and Zeb Wells. Head writers/co-executive producers Douglas Goldstein and Tom Root and co-executive producer Kevin Shinick are joined as writers by writer Mike Fasolo, as well as Hugh Davidson (Mike Tyson Mysteries), J. T. Krul, Breckin Meyer, as well as Green, Senreich and Sheppard.
Robot Chicken DC Comics Special 3: A Magical Friendship will kick off the eighth season of Robot Chicken in October.