'Into The Badlands' Trailer: AMC's Western Martial Arts Fantasy Drama Looks Gloriously Batsh*t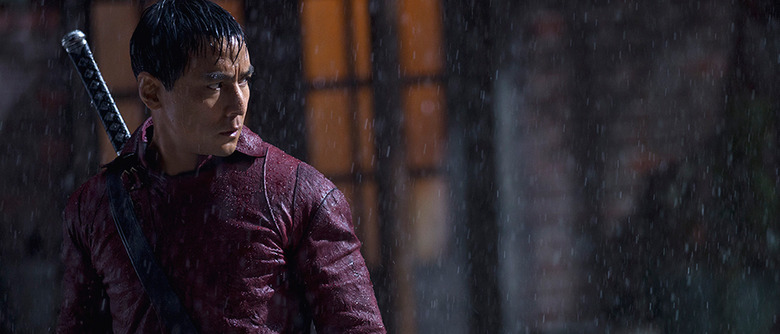 Do you prefer Westerns or martial arts actioners? Gritty dramas or medieval fantasies? The antebellum South or steampunk dystopias? Whatever your genre preference, you'll probably find a bit of it in Into the Badlands, AMC's completely batshit-looking new drama.
Loosely based on the classic Chinese novel Journey to the West, Into the Badlands stars Daniel Wu as Sunny, a skilled fighter who takes a mysterious young boy (played by the majestically named Aramis Knight) under his wing in a land ruled by feudal barons. Watch the Into the Badlands trailer after the jump.
AMC unveiled the Into the Badlands trailer at Comic-Con, and now has it up on YouTube.
It's tough to pin down Into the Badlands, and that's a huge part of its appeal. This genre-bender hails from Smallville creators Alfred Gough and Miles Millar, and is executive produced by Django Unchained's Stacey Sher and Michael Shamberg. Also executive producing are Stephen Fung and lead actor Wu, both of whom have martial arts movie experience.
With a lineage like that, no wonder Into the Badlands plays like "a Comic-Con attendee's fever dream," as Devindra put it. It's too early to tell whether Into the Badlands will turn out to be amazing or awful, but either way it certainly looks worth checking out.
Into the Badlands premieres this fall on AMC.
Into the Badlands is a genre-bending martial arts series inspired by the classic Chinese tale Journey to the West. In a land controlled by feudal barons, Into the Badlands tells the story of a great warrior and a young boy who embark on a journey across a dangerous land to find enlightenment. After cities fall into ruins and survivors return to the fields, a new society forms where the strongest prosper and the weak serve.
A high-octane fantasy story filled with martial arts action and a "Tarantino" touch, this series is about an unlikely band of adventurers who embark on a quest through this futuristic world in search of a better life.
Created by AMC Studios and produced by Oscar-nominated Stacey Sher and Michael Shamberg (Pulp Fiction, Erin Brockovich, A Fish Called Wanda, Django Unchained, Contagion), and master martial arts filmmakers Daniel Wu and Stephen Fung (Tai Chi Zero)
Series is written by the creators of hit drama Smallville Al Gough and longtime writing partner Miles Millar (Shanghai Noon, Spider-Man 2), who will also serve as show runners and executive producers.