David Fincher Working With Julie Taymor And Trent Reznor On Fight Club Rock Opera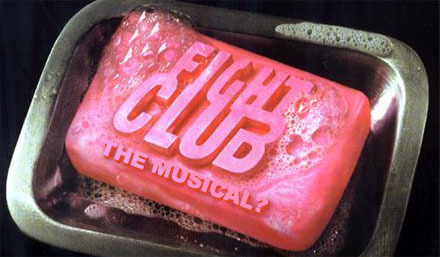 David Fincher has talked for many years about producing a Fight Club Musical on Broadway as a means to celebrate the film's tenth anniversary. That 2009 date has come and gone, and still Fincher has continued to talk about the possibility. I've just assumed it was one of those dream projects that would never come into fruition. But the project seems to still be in active development, and with Fight Club author Chuck Palahniuk doing press for the Fight Club 2 comic book series, we now have more details on the Fight Club Rock Opera.
Fight Club author Chuck Palahniuk filed the following tweet during San Diego Comic Con International 2015, with no further explanation:
David Fincher has previously stated that he has talked to Trent Reznor about doing the music for the Fight Club musical adaptation. In 2004, author Chuck Palahuik was telling fans that Trent Reznor was writing the soundtrack. No word on if Trent is still involved but now we have word that Julie Taymor is working on the musical, which is now being referred to as a "Rock Opera".
Taymor is best known for directing the stage musical adaptation of The Lion King, for which she became the first woman to win the Tony Award for directing a musical, in addition to a Tony Award for Original Costume Design. She was also the director of the popular but panned Broadway musical Spider-Man: Turn Off the Dark and an off-Broadway production of A Midsummer Night's Dream.
I also found a quote from Palahniuk from April when he was busy hyping the Fight Club 2 comic book. It seems like most people missed the quote when it was published, but here it is:
For the time being, I'm keeping it for myself. But right from the get go, when we signed that 60-page contract back in 1996, it gave FOX rights to create sequels and television shows and, so, I don't have control over a lot of that. Fincher is optioning the stage rights. He's finally moving on to the big rock opera. David says that there's been a rock opera for every generation, you know, "Tommy" and then "The Wall," but there really hasn't been a really big one for the current generation – and he and Trent Reznor are really determined to make that happen. And David's been consulting with Julie Taymor, the director, and she's been kind of coaching him on what it takes to get a huge stage production.
MTV asked Palahniuk is he has any ideas for the songs or if he was planning to help write any of the songs himself, which the author responded:
No, David said that he wanted to give Trent a year to put together the primary songs and most of the soundtrack and I think I'll hear it after that point.
Fight Club is one of my favorite films of all time, although I've been hesitant about a musical adaptation since it was first rumored. A rock opera is much more fitting of Palahniuk and Fincher's style, and I love Trent Reznor's work, both on the screen and on the radio — Although I'm not sure if Taymor's over-the-top big design is the best fit for this dark and gritty tale.