'Addicted To Fresno' Red-Band Trailer: Judy Greer Makes Funny Bad Decisions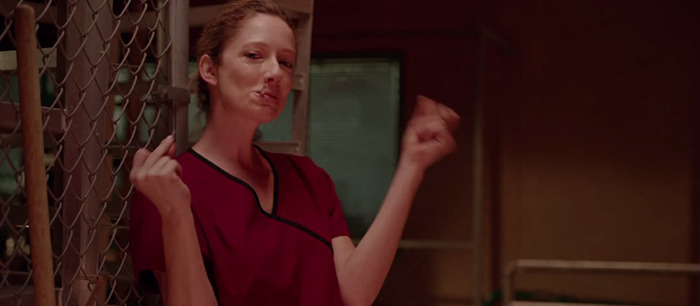 This summer, we've seen Judy Greer as a mom in Ant-Man and Jurassic World and heard her as a mom in Tomorrowland, which means maybe those films are all actually part of the shared Judy Greer Universe.
But 2015 won't merely be the year of Greer toiling in supporting roles as a caregiver. She looks like she gets to have a lot of fun and enjoy top billing in Addicted to Fresno, playing a sex addict who tries to get her life together, but accidentally kills a guy and then robs a sex shop, neither of which really helps her plight.
The film also features Natasha Lyonne and a great supporting cast including Aubrey Plaza, Fred Armisen, Jessica St. Clair, Molly Shannon, Michael Hitchcock, and Ron Livingston. Check out the funny Addicted to Fresno trailer below.
This isn't a super-vulgar trailer, but there are a few light red-band moments in here, not least of which (depending on where you work) is a big collection of colorful dildos.
Trailer via Gravitas Ventures. Addicted to Fresno opens On Demand on September 1, and goes to theaters on October 2.
Fresno is a comedy about co-dependent sisters who work as hotel maids in Fresno, CA. Shannon is fresh out of sex rehab when her younger, overly optimistic lesbian sister Martha lands her a job as a maid at Fresno Suites, the local hotel. When Shannon jeopardizes her fresh start by accidentally killing a hotel guest after a post-rehab relapse, Martha goes to great lengths to help her sister cover up the crime. Shannon finally learns to take responsibility for her actions, and the sisters begin to resolve their tortured relationship.