Daniel Craig Denies Having A Minor Role In 'Star Wars: The Force Awakens'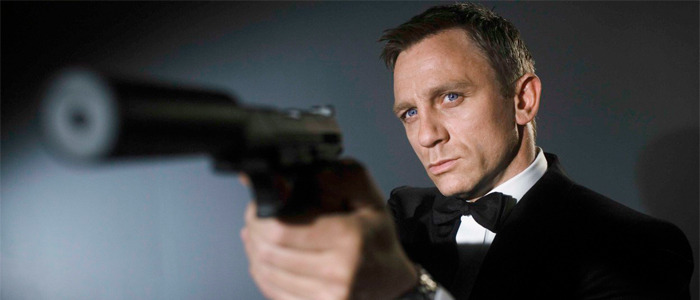 It's no surprise that when a rumor pops up online about Star Wars, there's usually no confirmation whatsoever, and denial is nearly as rare, usually only coming from the talent involved in the rumors. Meanwhile, Lucasfilm just sits quietly and lets the rumors flow.
However, one of the more interesting rumors that seemed to get solidified was the involvement of James Bond star Daniel Craig in a very minor role in Star Wars: The Force Awakens. It was a crazy rumor back in September of 2014, but then Simon Pegg seemed to confirm it, saying that 007 would be suited up as a Stormtrooper. But now Craig has fired back and denied that claim entirely. Find out more about the Daniel Craig Star Wars cameo denial below!
Speaking with Entertainment Weekly, Craig was asked about a potential cameo in The Force Awakens, and he flat out denied it, going so far as to deny it rather incredulously:
"Why would I ever bother doing something like that? Fucking hell! Pffft. Play an extra in another movie?"
That sounds a little arrogant, but we know what he means. Why would the star of the latest iteration of James Bond just be an extra in another movie? Well, the answer is that movie is Star Wars, and sometimes big name actors do fun roles like this. However, there's a part of me that thinks Craig is hamming it up a bit in this denial, because he also says this:
"Talk to Simon Pegg. He obviously knows way more than I do. He's just jealous because he's not in Star Wars. He's got some issue with J.J. I don't know what the f— it is. You need to talk to Simon about it."
The problem is that we now officially know that Simon Pegg does have a role in Star Wars: The Force Awakens. He appeared in the behind the scene sizzle reel that debuted at Comic-Con, and can be seen in a big alien suit on the set. So if Pegg is making up rumors, it's not because he's jealous of not being in Star Wars. And we know Pegg doesn't have an issue with Abrams, otherwise he wouldn't be co-writing Star Trek Beyond for Bad Robot.
Honestly, it sounds like Craig might be having a bit of fun with the press by denying the rumor and holding up his end of the bargain to keep quiet about anything he saw or experienced on set. I wouldn't be surprised if we find out that Craig is actually in the movie by the time it hits theaters, or at least when it ends up on Blu-Ray and DVD.