VOTD: Learn The Long History Of Batman Vs. Superman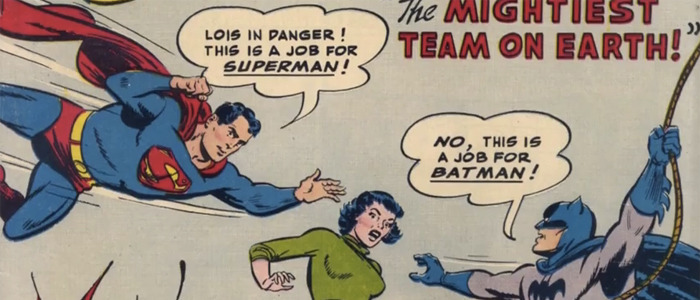 Even though we'll just be seeing The Dark Knight taking on The Man of Steel on the big screen for the first time in March of 2016, there's a long history of rivalry between Batman and Superman that goes back decades.
Before you see Batman v. Superman: Dawn of Justice next year, you should take the time to catch up on the longtime battle between the two most popular characters to ever come out of DC Comics. In the history of Batman vs Superman, you'll learn that before the two heroes ever battled, they actually worked together. Watch the video below!
Here's a quick history of Batman vs. Superman from ComicsExplained:
For all you hardcore comic book fans out there, you might not find anything here that you didn't already know. But this is a rather informative short for anyone who hasn't taken the time to dive into comics or the long history of these two characters appearing together.
It's no surprise to see the battle between Batman and Superman get more and more dark and intense as comic books matured and evolved. The two have traded plenty of blows as only superheroes can, and things have looked pretty bleak for each character from time to time, but these are two heroes of Justice League after all, so they can't stay mad at each other forever.
Even though Superman and Batman have met several times, DC Comics has been smart to make these battles a rarity so as not to ruin the novelty of their biggest heroes colliding. Often times the comics seem to lead to a confrontation between the two caped comrades, but it never happens. It's the ultimate comic tease.
But next year will be no tease, especially if the latest trailer for Batman v. Superman: Dawn of Justice is any indicator. Bruce Wayne is mad at all the destruction caused by the battle at the end of Man of Steel, and then Superman goes and rips the roof off his Batmobile. Wonder Woman may have to break this one up in the end.