VOTD: Chris Gethard Wants To Rename Washington DC To Washington Marvel, Because DC Sucks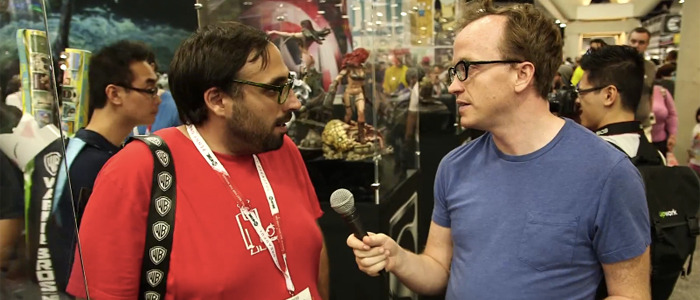 Despite the combining of all sorts of geekiness at Comic-Con, there's thankfully not a lot of confrontation amongst the fans of Star Wars and Star Trek, Marvel and DC or Harry Potter and Lord of the Rings.
But comedian Chris Gethard decided he wanted to stir up some potential trouble by going around the Comic-Con show floor and asking fans to sign a petition to change the name of Washington DC to Washington Marvel. Why? Well, as Gethard succinctly puts it, DC sucks. And if you keep an eye out, you just might spot some dudes who look just like myself and Peter Sciretta, though you might not like what we have to say.
Find out how the Chris Gethard Comic Con petition was received after the jump!
We're just glad there weren't any real fights that happened because of this bold stance against Washington DC. Even though there's a blend of some very eccentric people in San Diego, there's not too much to fight about. We're all there to be geeky together. Sure, we get to see Batman fight Superman next year, but have you ever seen a chubby Doctor Who argue with Imperator Furielsa? (That, by the way, is a combination of Furiosa from Mad Max: Fury Road and Elsa from Frozen.)
Honestly, I'm a little surprised that there was so little dissension from people, even from those who were self-proclaimed DC fans. After Peter and myself filmed our segments for the show, the production team was talking about how they weren't getting a lot of people who were disagreeing with them.
But that could all change once Batman v. Superman: Dawn of Justice hits the big screen. The Warner Bros. Pictures production of the DC Comics properties going to head for the first time looks pretty damn impressive in the trailer just released at Comic-Con. Washington DC just might get to keep its name after all.
Make sure to check out all our Comic-Con 2015 coverage right here.