New 'Westworld' Images And Details Tease HBO's Sci-Fi Thriller Series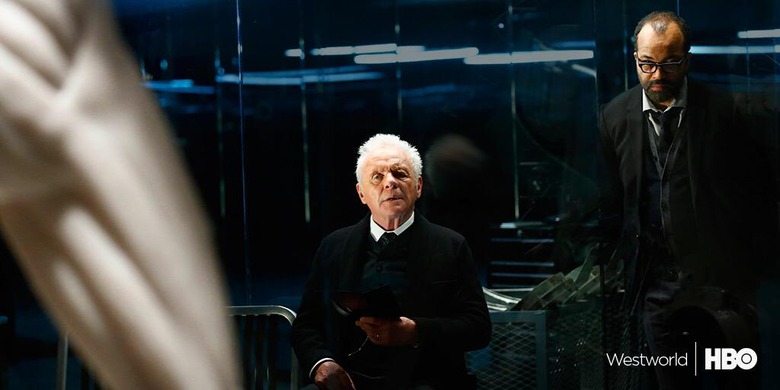 Jonathan Nolan arrived at Comic Con for his Person of Interest panel, but he brought a surprise: a trailer for his HBO series Westworld. The show takes its name and inspiration from a 1973 film by Michael Crichton, in which the robot "attractions" at a futuristic amusement park begin to run wild. The new show keeps the same basic conceit, but takes a more modern turn. HBO described it early on as "a dark odyssey about the dawn of artificial consciousness and the future of sin."
While we don't have that Westworld trailer to share just yet, we do have a handful of new Westworld images such as the one above, showing star Anthony Hopkins. More of the cast awaits below.
Here are some images to complement the one above, featuring actors such as James Marsden, Evan Rachel Wood, and Thandie Newton.
So what do we know about the show? The Comic Con trailer begins with a simple line: "have you ever questioned the nature of your reality?"
Anthony Hopkins is Dr. Robert Ford, the creative director of Westworld, and Jeffrey Wright is Bernard Lowe, who works as head of the Westworld programming division. He created the, well, not robots, but "artificial people" that populate the park.
Dolores, the person being questioned by the line above, is played by Evan Rachel Wood. (See her with James Marsden, above.) The trailer, described well by io9, has Dolores being manipulated, or experimented upon, seemingly by Hopkins' character. How this will play out in the show, and what it reveals about the show, is very much open to question.
There's some other news for the show, too. Deadline reports that Miranda Otto has left the show, and her part is recast with Sidse Babbett Knudsen (Borgen), playing "Theresa Cullen, the pivotal operations head of Westworld."
And Eion Bailey (Once Upon a Time) will play Logan, "a self-indulgent ladies man who is a return visitor to Westworld, the character is well versed in inhaling all the pleasures that it has to offer." Logan has a friend, William, who is new to the park, and William will be played by Jimmi Simpson (House Of Cards). Finally, Clifton Collins Jr. (Pacific Rim) will play Lawrence, "a sly criminal who really knows his way around Westworld."