'Star Wars: Vader Down' Comic Book Crossover Event Announced At Comic-Con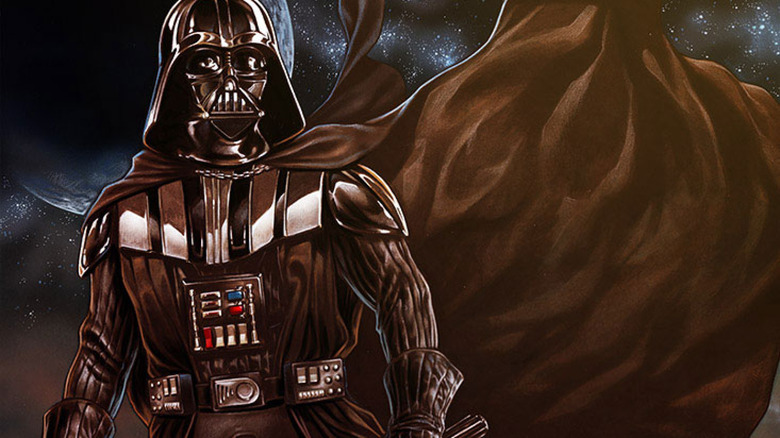 There was so much news coming out of San Diego Comic Con International 2015 that we missed some of the smaller announcements that happened outside of Hall H. late last week we told you that Marvel Comics would be releasing a new Star Wars comic book series based on the character Chewbacca written by Gerry Duggan and artist Phil Noto. The other Star Wars comic book news coming out of the convention is a comic book crossover event between the ongoing Star Wars and Darth Vader ongoing series. Find out how this epic story will play out on the page, after the jump.
Vader Down was announced during Marvel's "Cup o' Joe" panel. The crossover event will see:
"Darth Vader forced to face the entire might of the Rebel Alliance alone, after he crash lands on a planet. The Alliance – Including heroes Leia, Han, Luke, and Chewie – decide they cannot pass up the opportunity to rid themselves of their most fearsome foe."
The new crossover story will begin in the oversized Star Wars: Vader Down #1 which will be released in November 2015. The story will then continue in the pages of the stand alone Star Wars and Darth Vader comic books. The Vader Down story is written by Jason Aaron (Thor, The Other Side, Scalped, Ghost Rider, Wolverine, PunisherMAX) and Kieron Gillen (Phonogram, Journey into Mystery, Uncanny X-Men). and artists Mike Deodato (The Amazing Spider-Man, The New Avengers, Secret Wars) and Salvador Larroca (X-Men).
Here is a preview of uncompleted cover art for the first issue of Vader Down: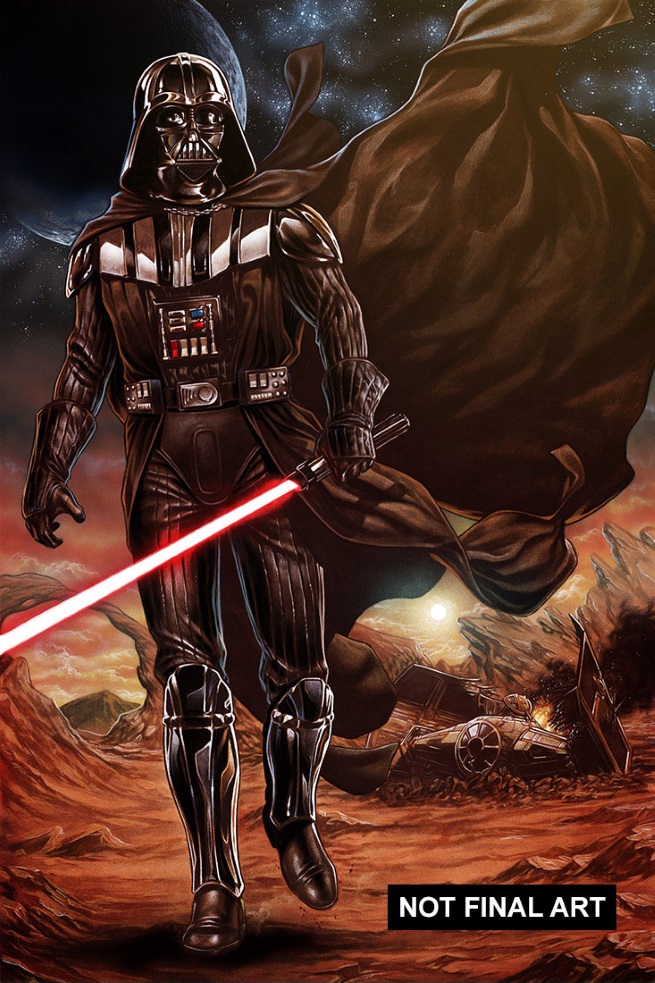 StarWars.com spoke with Star Wars writer Jason Aaron and Darth Vader writer Kieron Gillen and learned a bit more about the upcoming Vader Down crossover event. Here are some choice excerpts:
"Hopefully, you get to see Vader in a kind of situation we haven't seen him in before," Aaron says. "Where he is cut off and surrounded and really in a tough spot. So how does Vader react to that? He's probably not going to run and hide. He's Darth Vader. So whatever the threat is before him, he's going to turn on his lightsaber and step out to meet it. But we're throwing him up against quite a lot in this. That's the inciting incident, and that draws in the cast of both our books, which complicates things even more. Again, it's called Vader Down. You're going to get to see Vader cut loose in a way beyond what either one of us has shown before."
"We very clearly wanted to show from the beginning that our two books were closely linked," Aaron says, "which was easy because Kieron and I were in the same room for our first meetings with Lucasfilm when we talked about all this. The end of the first arc was a huge moment, where Vader hears the word "Skywalker" for the first time in connection with the pilot who blew up the Death Star. That set the course for both us going forward, and then we diverged with our second arcs. Kieron was introducing a lot of new characters, and I sent Luke off on a very particular story. It just made sense to bring everything crashing back together with the third arc." ... "We're doing the biggest story we've done so far," Aaron says. "The movie of the Marvel Star Wars comic books."
The crossover will also have some fun interactions, like Doctor Aphra meeting Han Solo, great big Wookiee fightsand Darth Vader's droids 0-0-0 and BT-1 meeting C-3PO and R2-D2. You can read that full interview on StarWars.com.