Watch The Full 'The Hateful Eight' Comic Con Panel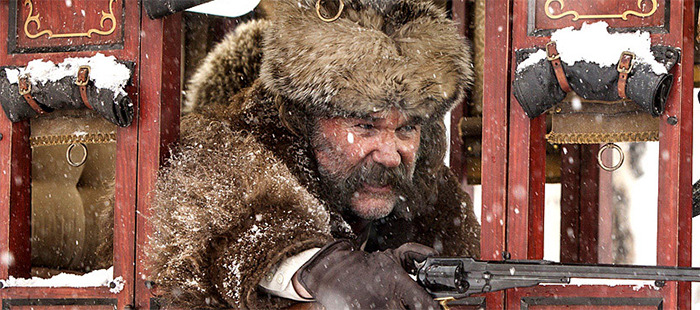 While we can't always see footage shown at Comic Con (official releases akin to the Suicide Squad drop are still not guaranteed) but more and more often we're able to at least show off videos of big panels minus any footage debuts. Here is the full panel for the new Quentin Tarantino film, The Hateful Eight, which will hit theaters this coming Christmas.
And while other panels were about character descriptions, easter eggs and costumes, this one was for the hardcore film crowd — it was about lenses and projection, and even got into Tarantino's irritation with the script leak that nearly canceled this film. And it was probably the only Comic Con panel with a mention of Luchino Visconti. Watch the full Hateful Eight Comic Con panel below.
Sadly, this video does not have the opening featurette, hosted by Samuel L. Jackson, which discussed roadshows and the Ultra Panavision format used for the film. Let's hope that goes online officially sooner rather than later.
Here's the panel:
So, yeah, at the end is the point we reported on earlier, where Tarantino announced the plan for Ennio Morricone to score the new film. There's a tease in there for a possible (but not very likely) Kill Bill 3, perhaps some TV series from Tarantino, and a lot of talk about making the film and the strength of these actors.
The Hateful Eight will open on December 25 in 70mm-equipped theaters; a wide release will follow on January 8, 2016.
In THE HATEFUL EIGHT, set six or eight or twelve years after the Civil War, a stagecoach hurtles through the wintry Wyoming landscape. The passengers, bounty hunter John Ruth (Russell) and his fugitive Daisy Domergue (Leigh), race towards the town of Red Rock where Ruth, known in these parts as "The Hangman," will bring Domergue to justice. Along the road, they encounter two strangers: Major Marquis Warren (Jackson), a black former union soldier turned infamous bounty hunter, and Chris Mannix (Goggins), a southern renegade who claims to be the town's new Sheriff. Losing their lead on the blizzard, Ruth, Domergue, Warren and Mannix seek refuge at Minnie's Haberdashery, a stagecoach stopover on a mountain pass. When they arrive at Minnie's, they are greeted not by the proprietor but by four unfamiliar faces. Bob (Bichir), who's taking care of Minnie's while she's visiting her mother, is holed up with Oswaldo Mobray (Roth), the hangman of Red Rock, cow-puncher Joe Gage (Madsen), and Confederate General Sanford Smithers (Dern). As the storm overtakes the mountainside stopover, our eight travelers come to learn they may not make it to Red Rock after all...