'Batman: The Killing Joke' Will Become An Animated Feature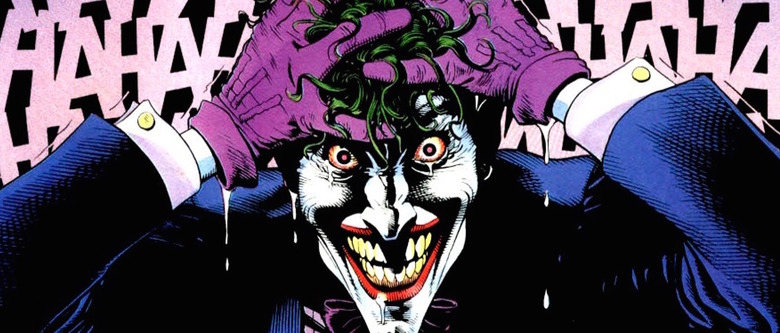 One of the most iconic Batman stories of all time is finally getting turned into a movie. Warner Bros. and DC Entertainment have announced plans to adapt Alan Moore and Brian Bolland's Batman: The Killing Joke into an animated feature for 2016. Get all the details on the Killing Joke movie after the jump. 
The Killing Joke movie is one of three announced this weekend as part of upcoming DC Universe Animated Original Movies slate. The others are Batman: Bad Blood, which is not an adaptation of that Taylor Swift music video but rather an original tale featuring Batwoman; and Justice League vs. Titans, another original tale. All three will be released direct to video in 2016.
Written by Moore and drawn by Bolland, the graphic novel Batman: The Killing Joke depicts one possible origin story for the Joker. In this version, he is a failed comedian who gets involved with a desperate criminal scheme. Batman foils their plans, leaving the Joker disfigured, embittered, and insane. This is also the story in which Barbara Gordon is paralyzed, eventually leading her to become Oracle.
Though the basic plot is a familiar one to most Bat-fans, the Batman: The Killing Joke movie will include a new 15-minute prologue that helps set up the story.
Although the animated project marks the first movie adaptation of The Killing Joke, the story has proved tremendously influential in other cinematic depictions of the Joker. Both Tim Burton and Christopher Nolan have cited the tale as inspirations for their respective Batman films. More recently, Jared Leto recreated the cover to tease his take on the Joker in David Ayer's upcoming Suicide Squad.
Like most of the other DC Universe Animated Original Movies, Batman: The Killing Joke will be executive produced by Bruce Timm. No other cast or crew has been announced. In years past Mark Hamill has mentioned that he'd love to voice the Joker for a Killing Joke adaptation, but for now that's just wishful thinking.