Rob Thomas And Kristen Bell Want 'Veronica Mars' To Return As A 'True Detective'-Like Limited Series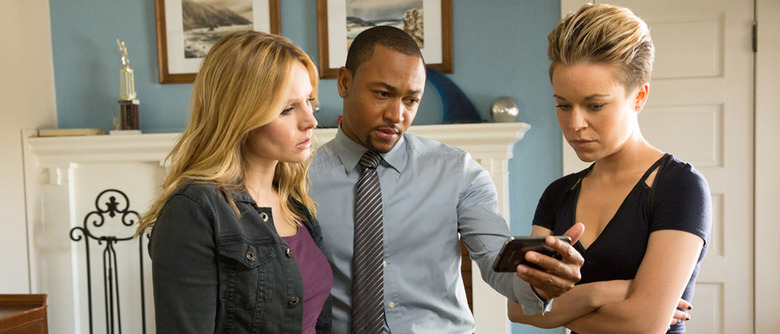 For a low-rated series that lasted just three seasons, Veronica Mars sure has had a long afterlife. It came back last year in the form of a feature film, accompanied by a CW Seed digital spinoff and a series of books. Now Veronica Mars creator Rob Thomas has revealed it could return yet again, this time as a limited TV series.
More on the possible Veronica Mars limited series after the jump.
TV Line asked Thomas about the possibility of a Veronica Mars return at Comic-Con. Asked if a second Veronica Mars movie could happen, Thomas responded, "I hope so. Kristen [Bell]'s game, I'm certainly game." But, he quickly added, "We have nothing in the works."
Then he dropped the intriguing idea of a "short-run series" about the no-longer-teenaged detective. "Like a Veronica Mars True Detective is really appealing to us, that sort of setup," he suggested. For now, though, it's only a dream. Thomas clarified that he hasn't officially pitched the idea yet, as his new show iZombie has kept him busy.
If a Veronica Mars limited series ever happens, then, it won't be for some time. While Thomas keeps away at iZombie, Bell is busy starring on Showtime's House of Lies. And of course it'll take some time to align schedules for the rest of that cast, since Neptune just wouldn't be the same without Logan, Mac, Weevil, Wallace, Dick, Keith, etc.
In recent years we've seen a number of older properties revived as "limited series." 24: Live Another Day was a hit for Fox, and there are revivals of Heroes and The X-Files coming up at NBC and Fox respectively. There's been talk of a possible Prison Break miniseries at Fox as well. It's worth pointing out, though, that most of these shows were bigger hits ratings-wise in their heyday than Veronica Mars ever was.