'Vixen' Trailer: The CW's Latest Superhero Gets Animated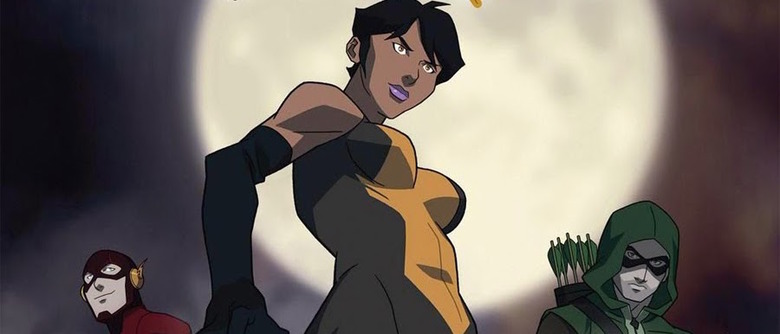 The CW's comic book universe continues to expand this summer with CW Seed's Vixen, the first animated show to join the DC lineup. Megalyn Echikunwoke (The Following) voices lead Mari McCabe, an orphan from Africa who inherits a totem that gives her the powers of animals.
The digital series features several characters from the rest of The CW's DC-verse, with Stephen Amell (Arrow), Grant Gustin (The Flash), Emily Bett Rickards (Felicity Smoak), and Carlos Valdes (Cisco Ramon) all lending their voices to the show. Watch the first Vixen trailer after the jump.
CW Seed's Vixen trailer was first unveiled at the DC Superhero Saturday Night Comic-Con panel in Hall H, and is now online on YouTube.
Based on the trailer, Vixen looks pretty solid – which just raises the question of why this is an animated digital series rather than a full-blown live-action primetime show. Vixen seems more than capable of holding her own alongside fellow CW / DC superheroes Arrow and The Flash.
One possibility is that The CW is testing the waters for Vixen's live-action introduction.The network sees CW Seed as "an incubator for new talent and new ideas," so if Vixen does well perhaps they'll find other ways to use the character. Earlier reports indicated the character could appear on Arrow or The Flash (or, presumably, the upcoming Legends of Tomorrow). And Vixen's lead voice actress Echikunwoke certainly looks like she'd fit the bill for a live-action Vixen.
Vixen premieres August 25 on CW Seed.
Originally from Africa, Mari McCabe's parents were killed by local greed, corruption, and wanton violence. But the orphaned Mari refuses to succumb to the terrors surrounding her.
Inheriting her family's Tantu Totem, Mari can access the powers of animals – anything from the super-strength of a gorilla to the speed of a cheetah. As Vixen, she fights valiantly to protect the world from threats like those that claimed her family.