Lucasfilm Delivered One Of The Best Comic-Con Surprises Of All Time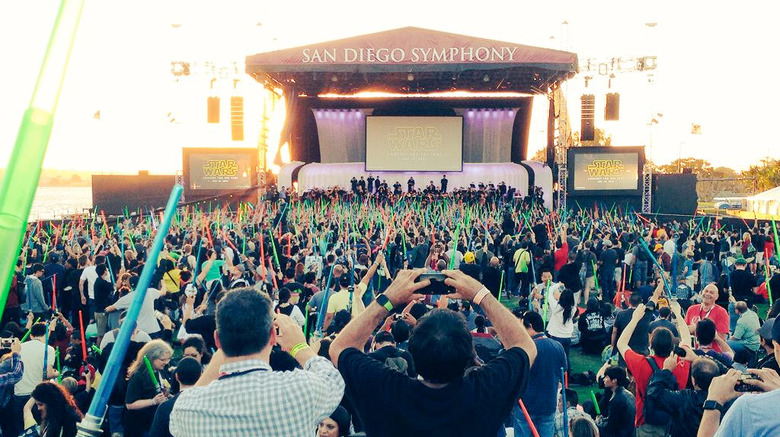 At Comic-Con in San Diego, the panel for Star Wars: The Force Awakens was a nice blend of the new and old. New cast members John Boyega, Daisy Ridley, Oscar Isaac, Adam Driver, Gwendoline Christie and Domhnall Gleeson were on hand, and classic heroes Harrison Ford, Mark Hamill and Carrie Fisher were also present. Their presence made for a fun, exciting panel, even if the footage shown wasn't exclusive to the convention itself.
But the payoff came when director J.J. Abrams started talking about the music of Star Wars. Upon getting affirmation that the Hall H audience loved the music of Star Wars, Abrams delivered some incredible news. The entire crowd of Hall H, about 6,500 people, would be leaving the convention center to attend a live Star Wars concert.
Find out more about the Star Wars Comic Con concert after the jump!
The crowd went absolutely nuts. All were excited, many were confused, some still couldn't believe it. But Abrams was not joking. A mass exodus of Star Wars fans was led by First Order Stormtroopers to the outdoor San Diego Symphony behind the convention center, along with Minnesota man Kevin Doyle, who marched 654 miles to Comic-Con in honor of his late wife.
This feat was pretty impressive, especially when you consider that Comic-Con can't even figure out how to create an efficient system for getting people into Hall H. It takes Comic-Con over three hours to hand out wristbands to people waiting in line to get into Hall H, but the entirety of the crowd made it from the convention center into the symphony venue in just over an hour.
Oh man, this is really happening. #SDCC #StarWars pic.twitter.com/OIr1vBi1yP

— Ethan Anderton (@Ethan_Anderton) July 11, 2015
Upon arrival, everyone received one of Hasbro's toy lightsabers and packed into the outdoor venue. J.J. Abrams took the stage yet again with Kathleen Kennedy to introduce the cast of The Force Awakens one more time.
And after some lightsaber clashing between the actors and the front row crowd, we were all ready to hear a live orchestra play Star Wars themes hand-picked by the legendary John Williams. Sadly, the composer wasn't in attendance to conduct the orchestra, but he sent a video message to introduce the concert for fans:
Hearing Star Wars music live with a group of hardcore fans is truly magical, especially when it's such a big surprise at Comic-Con. As you can see, the concert began with a bang with The Imperial March, moving through a few other soft themes, including Leia's, not to mention the exciting track from the asteroid field scene in The Empire Strikes Back.
But it was the finale of the iconic Star Wars theme that worked everyone into loud cheers, waving their ignited lightsabers in the sky, as massive amounts of fireworks in the harbor were launched in coordination with the music. Here's the finale we all experience with the biggest smiles on our faces:
The primary Star Wars: The Force Awakens panel was fine (you can watch it here), even though no real footage from the actual movie was shown (there's a behind the scenes sizzle reel to watch), but this amazing surprise event for fans who waited hours and hours to get into Hall H certainly made it worth the wait.
This is what Comic-Con should be about. While it's become very commercialized and coordinated as a promotional venue for new movies and TV shows, it should really be about fan appreciation. Studios rarely come with major surprises like this for fans anymore, and even though it's cool to see exclusive footage in these panels, that's something the ends up getting leaked all the time now. So it's time to change the game and give fans something to remember.
Lucasfilm did something for fans that was truly a once in a lifetime experience, and other studios should take a note on how to wow and satisfy their fans with something that's memorable and fun outside of the usual hype machine elements. It will undoubtedly be an experience that stays with me for the rest of my life. And hopefully we'll feel the same way about Star Wars: The Force Awakens when it arrives on December 18th.