Oscar Isaac Suggests Poe Dameron's Backstory Has Ties To 'Star Wars: A New Hope'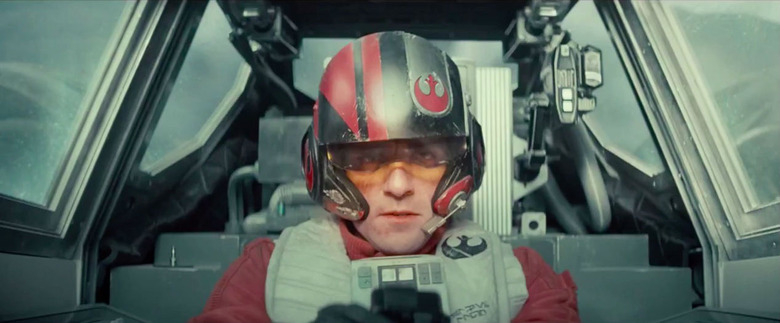 Yesterday's panel from Lucasfilm for Star Wars: The Force Awakens didn't bring too much in the vein of revelations, though we did learn that Domhnall Gleeson's character is named General Hux, and the actor revealed the First Order's base is called The Starkiller Base, in honor of Luke Skywalker's original character name in the first draft of Star Wars.
But there was one little tidbit from Oscar Isaac that intrigued us, and it seems to have gone largely unnoticed. When answering a fan's question, Isaac suggested that his character Poe Dameron's backstory has direct ties to Star Wars: A New Hope. Find out about the Poe Dameron backstory after the jump!
Before you keep reading, just know that we don't consider anything you're about to read to be a spoiler. This is merely potential backstory for Oscar Isaac's character Poe Dameron and likely does not ruin any plot points or revelations for Star Wars: The Force Awakens. So here we go...
Previously, an interview with Oscar Isaac had him positing that his character may be from Yavin IV, the moon where the Rebel base is located in Star Wars: A New Hope. That's the launchpad for the battle against the first Death Star. No one was sure whether this was a playful suggestion or something that was a real fact about his character.
Well, after an interesting statement during the Star Wars: The Force Awakens panel last night, we're inclined to believe it's true. One fan asked about working with Harrison Ford, Mark Hamill and Carrie Fisher, and Isaac talked about living up to the legacy of the characters they played. Here's his quote from the panel:
"It was taking on the character, he takes on the legacy, not only of Han and Luke, being these heroic pilots, but if you think about it, these characters. They lived those stories that we grew up with, they grew up at the same time as those stories. Poe was probably there watching on Yavin, you know, with the medal ceremony. And I want that, I want to be that hero and take up that mantle, and I think that's what he does, sometimes even recklessly."
Did you catch that? Isaac seems to be saying that Poe Dameron grew up on Yavin IV and was present at the medal ceremony from the end of Star Wars: A New Hope. That's a pretty direct connection to the original trilogy for one of our new characters. In fact, this would be the only detail we've learned about the new characters with any reference to the original trilogy.
There's a chance that this backstory is something Isaac has created himself just for his own acting purposes, but at the same time, all the main characters in the Star Wars universe surely have a backstory to provide influence and context for the way they act and what they do in this new set of stories. And considering what Isaac said before about Yavin IV, it does seem to be an integral part of Poe Dameron's character.
The only issue might be the timeline matching up. Because if Poe Dameron was maybe five years old in A New Hope, he would be between 35 and 40 years old once The Force Awakens arrives. Isaac himself is 35 so that timeline works, but it all depends on how old his character is in the movie.
Either way, hopefully there won't be a new special edition of Star Wars: A New Hope where a close-up shot of a young Poe Dameron is added to the medal ceremony.
What do you think of this potential revelation?