See The Great 'Star Wars: The Force Awakens' Comic Con Reel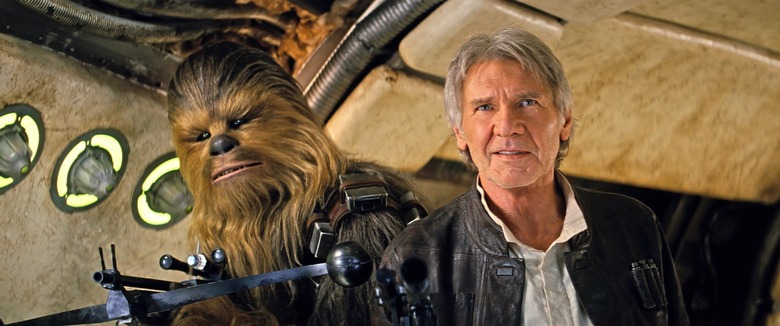 Lucasfilm's Star Wars: The Force Awakens panel was the big event in Hall H on Friday of Comic Con 2015, and director J.J. Abrams and Lucasfilm president Kathleen Kennedy did not arrive empty-handed. In addition to a roster of cast and crew, the two brought a behind the scenes reel that ran a few minutes. Even better, the Force Awakens Comic Con reel is online, and you can watch it right now.
And after all the work we did to describe and transcribe this during the panel! This is great stuff, and we're psyched that everyone can see it.
Big points:
It's great to see reverse "crew-eye" angles of shots we've seen in the teasers, such as the stormtrooper lineup from the first teaser, and the shot of Rey and Finn running from the explosion/TIE attack from the second teaser.
Just as there was during the panel, here we see a huge emphasis on practical sets and effects. The message is clear: that reliance on CG that everyone complains about from the Prequels? Not a factor. (And, yeah, we know there is much more practical work in the Prequels than people typically give those films credit for.)
How rad is the gimbal that the Falcon's gun turret is mounted on? That's super cool to see.
I love the smaller shots of the new cast, like Oscar Isaac being led by a stormtrooper in the on-set dolly shot.
Simon Pegg! The other creature and costume shots are great, but this confirms those rumors of Pegg playing a role of some sort in the movie.
*** 
Star Wars: The Force Awakens opens in theaters on December 18. Footage via
.
The Force Awakens is directed by J.J. Abrams from a screenplay by Lawrence Kasdan & Abrams, and features a cast including actors John Boyega, Daisy Ridley, Adam Driver, Oscar Isaac, Andy Serkis, Academy Award winner Lupita Nyong'o, Gwendoline Christie, Crystal Clarke, Pip Andersen, Domhnall Gleeson, and Max von Sydow. They join the original stars of the saga, Harrison Ford, Carrie Fisher, Mark Hamill, Anthony Daniels, Peter Mayhew, and Kenny Baker. The film is produced by Kathleen Kennedy, J.J. Abrams, and Bryan Burk. John Williams returns as composer.