'The Walking Dead' Season 6 Trailer Promises Dark Times Ahead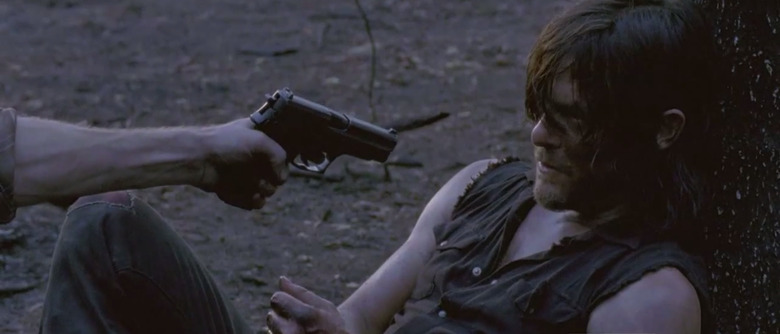 There are "more Walkers than in any episode ever" in the Walking Dead season six opener, says exec producer Greg Nicotero of the "super-sized" season premiere. The 90-minute episode airs on October 11. And if you can't wait for October to come, you can check out the Walking Dead season six trailer right here, right now.
This is a long and juicy trailer, and promises dark, bloody times ahead. The survivors will be crossing paths with some exciting new characters, including ones played by Ethan Embry, Merrit Weaver, and Corey Hawkins.
While The Walking Dead Season 6 won't premiere til fall, there are plenty of good times ahead this summer for zombie lovers. There will be a Talking Dead Season 6 Preview Special, which will premiere Sunday, August 23rd at 8:00 p.m. ET/PT. Hosted by Chris Hardwick, the special will give fans an early look at what to expect in the upcoming season of The Walking Dead, along with exclusive interviews with cast members and executive producers and behind-the-scenes moments.
Fans can also catch up on seasons one through five with a "5 Sundays/5 Seasons" Marathon. Each Sunday, AMC will air a single season of the critically-acclaimed hit beginning Sunday, July 26 at 2:30 p.m. ET/PT through Sunday, August 23.
"The Walking Dead" stars Andrew Lincoln as Rick, Chandler Riggs as Carl, Danai Gurira as Michonne, Melissa McBride as Carol, Sonequa Martin-Green as Sasha, Lauren Cohan as Maggie, Steven Yeun as Glenn, Norman Reedus as Daryl, Lennie James as Morgan, Seth Gilliam as Father Gabriel, Michael Cudlitz as Abraham, Josh McDermitt as Eugene, Alanna Masterson as Tara, Christian Serratos as Rosita, Tovah Feldshuh as Deanna, Ross Marquand as Aaron, Alexandra Breckenridge as Jesse, and Austin Nichols as Spencer. Based on the comic created by Robert Kirkman, Tony Moore, and Charlie Adlard, "The Walking Dead" will return to AMC this October for another 16-episode season.