See The First Official 'Ghostbusters' Cast Photo

Here it is. We've seen the costumes and proton packs from the new Ghostbusters, directed by Paul Feig. We've seen the film's new ride, and paparazzi photos have shown the cast — Melissa McCarthy, Kristen Wiig, Kate McKinnon, Leslie Jones — on set. Now there's an official image of the Ghostbusters crew all geared up to unleash some dangerous tech and throw a few ghosts into traps. It's great, have a look below.
Paul Feig tweeted the image:
#whoyougonnacall pic.twitter.com/hnrSjhCqSl

— Paul Feig (@paulfeig) July 10, 2015
Here's a larger version: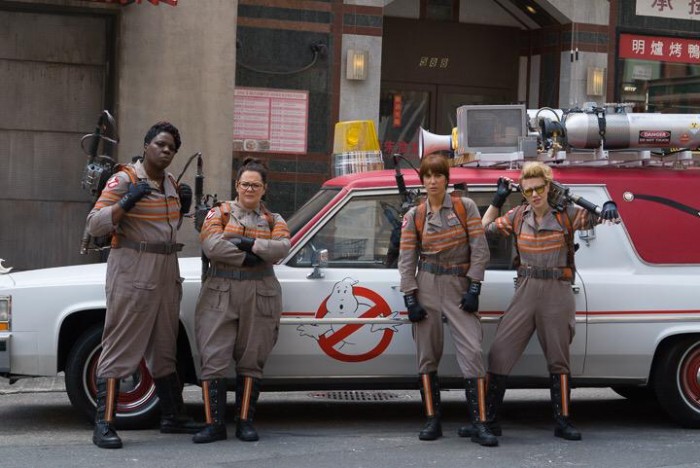 In the new Ghostbusters, Kristen Wiig and Melissa McCarthy are rumored to play Erin Gilbert and Abby Bergman, "a pair of unheralded authors who write a book positing that ghosts are real."
"Flash forward a few years and Wiig lands a prestigious teaching position at Columbia U. (Like the original, the story takes place in New York City, even though it's being shot in Boston.) Which is pretty sweet, until her book resurfaces and she is laughed out of academia. Wiig reunites with McCarthy and the other two proton pack-packing phantom wranglers, and she gets some sweet revenge when ghosts invade Manhattan and she and her team have to save the world."
Kate McKinnon will be playing Jillian Holtzmann, Bergman's new partner. Leslie Jones will play Patty Tolan, an New York City subway worker who stumbles across the main supernatural threat in the film, and Chris Hemsworth is Kevin, the Ghostbusters' receptionist.  Andy Garcia will portray the mayor of New York City. Michael K. Williams and Matt Walsh are playing Hawkins and Rourke, respectively. New York City's NY1 morning anchor Pat Kiernan will appear as a news anchor. Cecily Strong is also said to be part of the cast. And Neil Casey will play Rowan,  a "creepy mechanical genius" who sees as the main antagonist of the film, Peter Dinklage was on the wishlist for the part way back when.
Ghostbusters opens on July 22, 2016.