'Fantastic Beasts And Where To Find Them' Adds Dan Fogler As A Muggle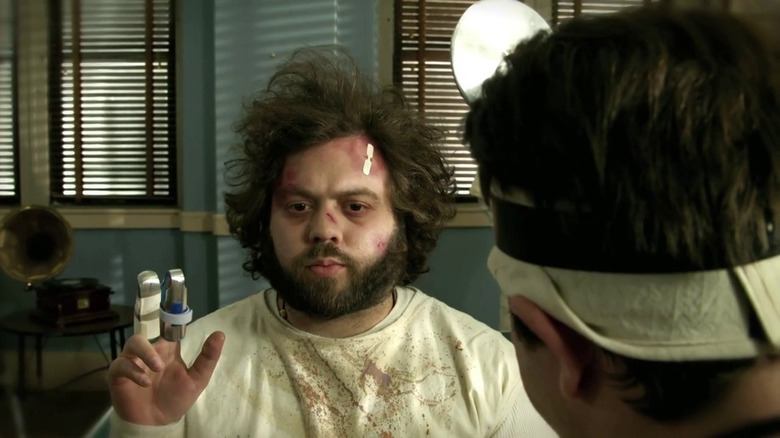 Fantastic Beasts and Where to Find Them has encountered its first Muggle. Dan Fogler has signed on for the Harry Potter spinoff, joining Eddie Redmayne, Katherine Waterston, Alison Sudol, and Ezra Miller. Get all the details on the Fantastic Beasts Dan Fogler casting after the jump.
Scripted by J.K. Rowling, Fantastic Beasts and Where to Find Them takes place about 70 years before the events of Harry Potter. Fantastic Beasts and Where to Find Them is the title of a textbook used by Hogwarts students. The film will follow the exploits of its author, Newt Scamander (Redmayne).
The British "magizoologist" journeys to New York City on a quest to find and document magical creatures. As previously reported, Waterston and Sudol play Queenie and Tina, witch sisters who cross paths with Newt. Miller is Kredan, a wizard who also encounters Newt on his travels.
Fogler now rounds out the cast as Jacob, described by Deadline as "a non-magical person whom Newt befriends." The character was described in earlier reports as Newt's rival, so it sounds like their relationship may be a complicated one.
Variety notes that Fogler nabbed the role after filmmakers were "underwhelmed" by the first round of actors who tested. Josh Gad, Michael Cera, and John Krasinski were previously considered for the Jacob role.
Fogler starred in the first season of ABC's Secrets and Lies, and has made guest appearances on shows like The Good Wife, Hannibal, and The Goldbergs. His recent films include Kyle Newman's Barely Lethal. In 2005, he won a Tony Award for The 25th Annual Putnam County Spelling Bee.
David Yates, who helmed the last four Harry Potter movies, is directing Fantastic Beasts and Where to Find Them. Rowling, David Heyman, Steve Kloves, and Lionel Wigram will produce. Warner Bros. has Fantastic Beasts and Where to Find Them in theaters November 18, 2016.