Comic-Con 2015: Wesley Snipes Claims "Strong Possibility" Of 'Blade 4' Happening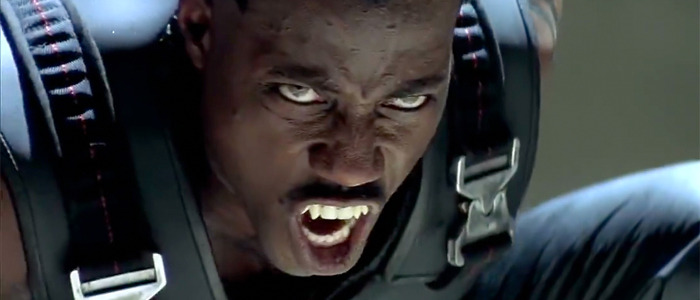 Even though Wesley Snipes was out of commission for a while due to certain legal entanglements, the actor is back to work, and he's got a new TV show called The Player coming to NBC this year. (Watch the trailer here.) Since he's promoting the new series at Comic-Con, conversation inevitably turned to his work in the Blade franchise.
According to Snipes, there have been talks about Blade 4, but right now he says, "Marvel and I have decided to have further conversations." That sounds like Marvel may not exactly be interested in messing with Blade since they're too busy with the rest of the Marvel cinematic universe. Find out more about Blade 4 after the jump!
The latest update about the status of Blade 4 comes from an interview with IGN, and Snipes elaborated a little bit:
"It's a topic of conversation. It's inescapable. They have their agenda, we have ours, and we're both moving at an accelerated pace to create magic. We'll see if it all matches up. There's a strong possibility, but if not we have another project that's going to stand toe to toe with Blade."
Again, I'm betting this is something that Snipes is more interested in than Marvel. The good news is that hile the Blade franchise resided at New Line Cinema when it was still an active property, Marvel Studios officially has the rights to the vampire hunter, so there's no problem there. But I do wonder what Snipes has up his sleeve that he thinks could be on the same level as Blade.
Anyway, as far back as 2010, there were rumblings of Blade making a comeback, but apparently without Snipes involved. At that time, Snipes said, "Maybe we get around to doing another Blade, except, from what I'm reading, every other actor is talking about playing him, and nobody is talking to Wesley. How strange that they don't come and talk to me about it."
As recently as 2014, Snipes was still interested in picking up the sword again saying:
"I'd be open to it. I think we've got some stones left unturned and there's some latitude left for us to build on and I'd love to get back in the suit again and do some things I've learned how to do now that I didn't know how to do then. I think we're better at making that kind of a film now. Some of the things we did in the early parts of the franchise were experimental and now they've become customary in a lot of the Avengers films and other comic book adaptations."
I'm not sure that Blade did anything groundbreaking for comic book films, but it was a fun franchise at least. The problem is, at this point, surely Marvel Studios would want to reboot Blade if they have any plans to bring the character back to screen at all. Recently we heard that there might be plans to bring characters like Blade and Ghost Rider into the television side of the Marvel cinematic universe, but those are just rumors for now. Stay tuned to see if Blade ends up making a comeback, with or without Wesley Snipes.
Do you want to see Wesley Snipes as Blade again? Would you rather see Blade rebooted?