Star Wars Chewbacca Comic Book Series Announced By Marvel [Comic Con 2015]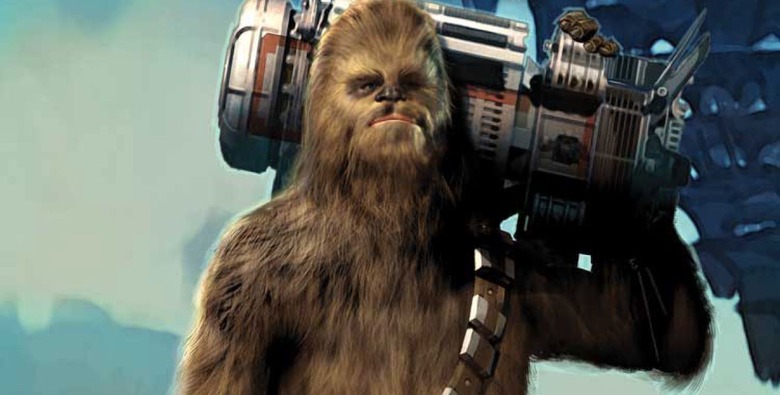 Marvel Comics have announced a new Star Wars comic book series based on the character Chewbacca. The new Star Wars Chewbacca comic book series will be written by Gerry Duggan (Deadpool) and artist Phil Noto (Jonah Hex, X-23, Uncanny X-Force, Black Widow).
The storyline will be set directly after Star Wars Episode IV: A New Hope and will finds Chewie on a strange planet, teaming up with new allies and maybe bumping into some old acquaintances (because what would a Star Wars comic be without easter eggs that make the expansive huge universe seem smaller and smaller). Hit the jump to find out more about this new comic book series and see two of the Star Wars Chewbacca comic book covers.
MTV News got the exclusive in an interview with Duggan, who reveals that are "going to let Chewie be Chewie and not try and change anything that's on the internal [dialogue], the caption boxes or anything like that." So don't expect translated dialogue from our favorite fuzzball.
Chewie is on a very important mission when we first meet him, and you'll be able to tell that right away without hearing him speak. ... He's obviously been marooned on this planet at least temporarily, with a loaner ship that he got from the rebellion. And their roadside service is not great, so he's got a little bit of work to do there to get the ship back up and running. This planet is at a crossroads. There are forces there that want — like the Empire — to strip it of its resources. And obviously [there] would be some people that would be very opposed to that, and Chewie throws in with, with the good guys. He's gonna set aside his mission for the greater good of this planet, and this new friend.
Right now they have completed a popular Princess Leia standalone mini series as well as a Star Wars Rebels tie-in miniseries, and the fantastic Darth Vader stand alone comic. I've been mostly a fan of the Star Wars comic book series so far, but like the Star Wars Anthology announcements recently, I'm a bit disappointed they are doing more original trilogy character standalone stories and not trying to develop more original stories and characters in this Galaxy. I'm sure that will be coming, as these releases are all to lead up to the return of Star Wars with The Force Awakens.
You can read Duggan's whole interview on the MTV website. The first issue of the Star Wars Chewbacca comic book series will hit stores from Marvel in October 2015.