J.K. Simmons Reteams With 'Whiplash' Director For 'La La Land'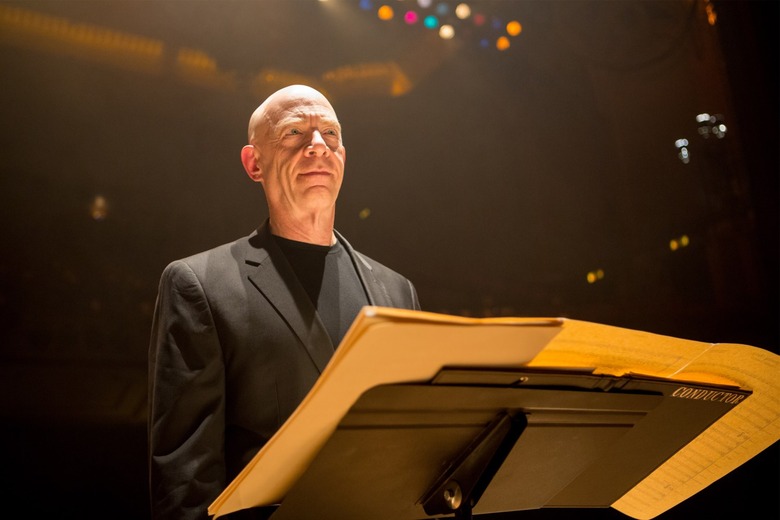 The last time J.K. Simmons and Damien Chazelle teamed up, their movie Whiplash scored five Oscar nominations including a Best Supporting Actor win for Simmons. No wonder, then, that they're looking to join forces again.
Simmons has just signed on for Chazelle's upcoming musical La La Land. He joins Ryan Gosling and Emma Stone, who play a pair of star-crossed lovers. Get all the details on the JK Simmons La La Land casting after the jump. 
La La Land is described as "an old-fashioned romantic musical" set in modern-day LA. Gosling plays a jazz pianist who falls for an aspiring actress (Stone), but the pressures of the city threaten to tear them apart.TheWrap reports Simmons will play a character called "Boss." Jessica Rothe (Wolves), Sonoya Mizuno (Ex Machina), and Callie Hernandez (Sin City: A Dame to Kill For) also star, as Stone's three roommates.
Simmons is coming off Terminator: Genisys and is expected to return for future installments of that franchise. He is currently shooting the Navy SEALS thriller The Lake. Recently, he dropped out of Kong: Skull Island, citing scheduling conflicts.
Chazelle has described the film's romantic vision as follows:
I'd like to make a contemporary musical about L.A., starting with the L.A. we know but slowly building to a vision of the city as romantic metropolis — one that is actually worthy of the dreams it inspires. I'd like to make a musical about the way L.A.'s peculiar rhythms can push its residents to the edge of their emotions — be they hope, desperation, or love. Think the kind of teetering-toward-madness you see in The Graduate or Boogie Nights, and imagine if you were to push that further. In this case, the city pushes its residents all the way: it pushes them into song.
Summit has La La Land in theaters July 15, 2016. Fred Berger, Gary Gilbert, Jordan Horowitz, and Marc Platt are producing