Comic-Con 2015: 'Hunger Games: Mockingjay - Part 2' Has A Fond Farewell Panel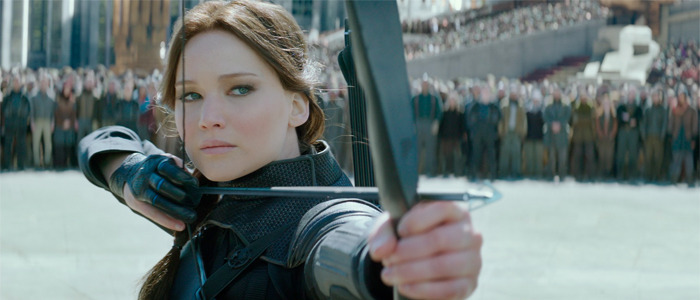 After an hour of Bill Murray being a rock star in Hall H at Comic-Con in San Diego, things took a different turn when the Lionsgate panel began featuring The Hunger Games: Mockingjay – Part 2.
Four timpani drums were rolled out on the Hall H stage, and as the players banged the drums, a stream of additional drummers entered the hall through the crowd, hitting their instruments with vigor, getting louder and louder until suddenly it was time for a message from District 13. You can watch that viral teaser right here, but now it's time to dig into the final Comic-Con panel for The Hunger Games franchise. It was a sweet, funny, and fond farewell to the young adult sci-fi adaptation with some brief teases of what's to come in the finale.
Check out our recap of The Hunger Games: Mockingjay Part 2 Comic Con panel after the jump!
What's to Come in Mockingjay - Part 2
First of all, director Francis Lawrence says that after being a bit of a spectator in Mockingjay – Part 1, "Katniss gets back into action. She was sidelined before, going through some issues, but now she's going after Snow and going into The Capitol with Squad 451. We get some real battle footage."
Josh Hutcherson offered some insight into what Peeta is going through after being held prisoner, "He went through a lot. The Capitol used tracker jacker venom and other twisted devices to turn him into a psychotic weapon against Katniss. So they have to rehabilitate him and use him as a good guy to fight for the cause." Jennifer Lawrence teases, "He couldn't stay away for long, because he couldn't resist this."
Liam Hemsworth becomes a big part of the battle too, working on "plans of how they're gonna take over The Capitol." Hemsworth also revealed that Gale teams up with Beetee (Geoffrey Wright) to devise ways to ambush and trap their enemy.
And it sounds like Gale and Peeta actually have a pretty important scene together too. Hemsworth revealed, "Josh and I have a great scene in this," and this was something Lawrence wasn't aware of at all. It may or may not involve Gale and Peeta kissing, but you'll have to see the movie to find out.
I think it's evoled a lot, it's really genuine, Katniss whole goal is to save prim, be there for prim, prim starts to be there for katnisss more than katniss is there for her. I think it's cool to see it evolve to become that, all of a sudden prims is really grown up and a strong character, taking care of katniss in a way mentally more than phsyically, its been funy to play because she's evolved over 5 years, started at 10 and now 15
Jennifer Lawrence Continues to Be Adorable
When asked about her favorite moments from the franchise, Jennifer Lawrence asks, "Can I say all of the movies? Suddenly I can't remember. [Shooting the arrow at the end of Catching Fire is] not as climactic in person as you would think. I'm blacking out right now, I can't even remember this entire period of my life."
One of Lawrence's favorite items from set was this little orange backpack that she would hide her cell phone in, and she's bummed that she doesn't get to keep it.
Panel moderator Conan O'Brien mistakenly called Katniss a crossbower, and Lawrence quickly explained that she uses a long bow, "I didn't spend months and months of training so I can be called a crossbower." She also talked about how they had lots of bows for shooting, such as a perfect, unscratched one for close-ups, a beat up one that was "Jennifer-proofed" that she still end up getting caught in the grass and hitting herself in the chin, throwing her back on the ground.
When asked if there's one thing she hopes fans get from this movie, she gave a somewhat clumsy but insightful answer:
"The power of our future is in our hands, it's about hope and empowerment and being involved. At the beginning of this movie, this was one girl who was standing up to something huge and gigantic. What I like about these movies is that they take the entire world and condense it into this continent, and she took this world into her hands, and even though she knew she could die...I'm not saying you should risk your life...pump, pump, pump your brakes...just...the power is with you and in your hands."
Liam Hemsworth gets funny points too, because he said everytime he tries to do The Hunger Games whistle, it comes out like The X-Files theme song.
When It's Over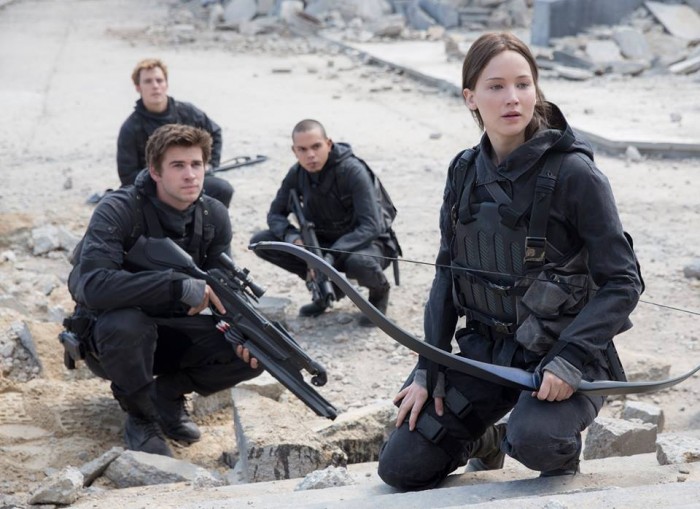 With The Hunger Games coming to an end, there was a bit of reflection on the characters and the production. For Lawrence, she's really enjoyed seeing Katniss evolved over these four films. The actress says, "There's always somebody calling the shots for Katniss, and this is the story when she finally takes control of her story and her destiny and makes decisions that she makes for herself. And they're not the easiest decisions at all. Watching her come into her own and set her own course, that to me feels very satisfying."
At a press conference after the panel, Lawrence offered a little more insight into the significance of this franchise and what fans should take away from it, "I hope a young audience will walk away from it thinking, thinking about war.  The whole movie is about the consequences of war and we want to inspire people to think about that, about what it means." Hutcherson added, "Yeah, of how bad things have to get to go to war and how easy those first steps are which lead you inevitably down that path."
As the end draws closer, producer Nina Jacobson laments how difficult it is to finish the franchise, "It's tough, we all wish there were seven or eight books instead of three. I think it's been emotional for all of us. We wanted to deliver on the emotion and the politics of it, but we didn't want to say goodbye to each other. But we want to deliver for the fans. They've delivered for us, and we want to deliver for them."
Director Francis Lawrence thinks the movie delivers and says despite some differences between the films and books, "We always wanted to make the books. We made the books and everyone who loves the end of the books will love the end of this movie."
Not Really Goodbye
At the end of the panel, Josh Hutcherson took the time to talk about how he'll miss everyone he worked with over the years. Not people like Lawrence and Hemsworth since they see each other all the time, but crew members, the people on set that you get to know during production.
And of course, there's the fans. Hutcherson also spoke for everyone by saying, "We've been doing these for four years, so many moments where we're tired, and you have so much energy and support, we appreciate it more than anything. We're so happy to see all you guys today."
And even though The Hunger Games may be coming to an end, Jennifer Lawrence will never really say goodbye to Katniss. She says, "I don't think it's happened yet. These movies changed my life, these people are still in my life, and I think the changes that happened in my life are so permanent that I don't think I'll ever really say goodbye to her.
Fans certainly won't forget Katniss Everdeen anytime soon, and we won't be forgetting Jennifer Lawrence either.