Comic-Con 2015: Some Of The Coolest Displays, Toys, Props And More From The Show Floor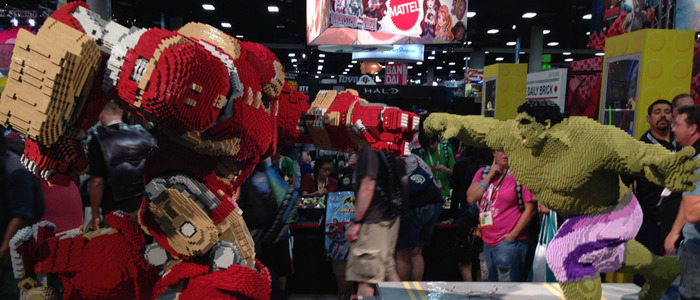 The entire SlashFilm crew is all over San Diego for the rest of the week, and if you've been paying attention to the front page, then you already know that we're covering Comic-Con like crazy. We tossed up some photos of downtown San Diego with the buildings covered in upcoming movies and TV shows, and now we have an inside look at the show floor.
Comic-Con is massive, and it's impossible to get pictures of everything, so we decided to just get some snapshots of things that we personally thought were cool. Whether it's unique displays, awesome props, collectible toys, spectacular artwork, we just wanted everyone to see some of the coolest stuff from the show floor.
Check out our Comic Con 2015 showfloor photos after the jump!
Warcraft Armor, Weapons and Orgrim
Legendary showed off a bunch of armor and weapons from Warcraft, not to mention revealing Orgrim. Check out Russ Fischer's feature on what Legendary had to show off from Warcraft right here.
Ghostbusters Reboot Proton Pack
The new proton pack from Paul Feig's reboot of Ghostbusters is on display at the Mattel booth. Sadly no sign of the new Ecto-1 on the show floor yet.
Tons of Movie Props (More to Come)
There's a slew of movie props at various booths. These particular ones come from PropStore.com, and we'll update this section with some other photos throughout the week.
Gremlins 2: The New Batch Action Figures
The cult classic sequel has some of the most gnarly Gremlins, and NECA has these action figures of two of the little monsters.
Factory Entertainment's Retro Lunchboxes
Mondo's Steelbook Releases
Mondo takes their artwork to the home video circuit with steelbook special editions of movies like Shaun of the Dead, The Thing and more. Check out Mondo's website to find out how you can buy them.
Hallmark Movie Ornaments
Every year Hallmark comes out with new ornaments for your Christmas tree, and this year brought Gizmo from Gremlins driving around his little convertible and Clark Griswold holding the Walley World security guard hostage on the park's roller coaster in National Lampoon's Vacation. They'll be available later this year.
New Sideshow Collectibles
There's a whole slew of new Sideshow Collectibles and Hot Toys on the show floor. Check out that He-Man with the bad ass Castle Grayskull shoulder armorThese are just some of my favorites, but we have a whole post of stuff from their booth right here.
Legendary's Creeping Krampus
Legendary has a holiday horror movie coming this winter, and a little display at their booth teases the Yuletide terror to come. Notice that gingerbread man getting stabbed?
Rey's Speeder from Star Wars: The Force Awakens
This isn't actually Rey's speeder that was used in the film, but it was created using Lucasfilm's official plans for the prop, and it's probably one of the more impressive replicas we've seen created.
McFarlane Toys' Game of Thrones Building Sets
If you're too grown up for LEGO, then you might like McFarlane Toys' construction sets. The Walking Dead sets are on shelves now, but these Game of Thrones pieces are coming to a store soon.
Acme Archives' Women of Indiana Jones Portraits
All the ladies of the original Indiana Jones trilogy get some awesome portraits courtesy of Acme Archives. Prints of these are on sale too, so if you must have them on your wall, then check out the Acme Archives website.
Marvel's Vending Machine
Fans can try to line-up to use Marvel's free vending machine that give out t-shirts, comics, giftcards, and more.
LEGO Hulkbuster vs LEGO Hulk
Giant Retro R2-D2 Action Figure
This guy is a life size tribute to the toy from decades ago.
Furbacca
Chewbacca is now a Furby, for better or worse.
Life Size Baby Groot is Adorable
This 1:1 scale version of Baby Groot comes from Elite Creature Collectibles.
***
All of this is just what we spotted on Preview Night. There's undoubtedly tons of collectibles, toys, artwork and big displays still yet to be seen, so if you couldn't make it to San Diego, we'll do our best to make sure you know what it's like to be at the convention by showing you all the goodieson display. We'll be roaming the show floor intermittently throughout the rest of Comic-Con, so keep an eye out for updates with new photos as we find more cool stuff straight from the show floor.