Richard Taylor And Weta Workshop Built On 'The Hobbit' Tech To Create 'Warcraft' Weapons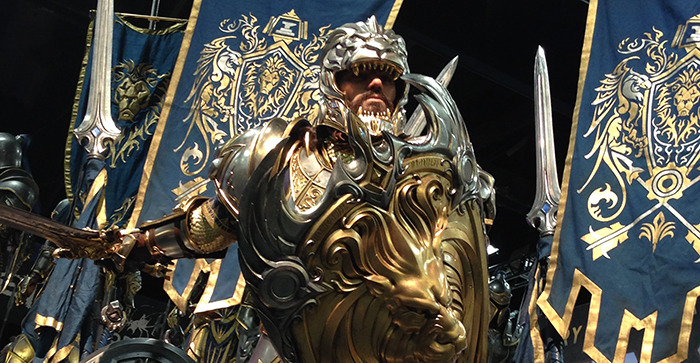 One of the best things about Comic Con is getting up close and personal with objects and costumes designed for many films. Weta Workshop is here with artifacts from Duncan Jones's film Warcraft, for example. While waiting to speak to Jones at Legendary's preview night event, I got a few minutes of private conversation with Richard Taylor, the Weta Workshop founder and creative director whose work with armor and weapons gave such weight to the Lord of the Rings movies.
The work Taylor and Weta have done for Warcraft is spectacular. You can see evidence above — that shot is of a statue of Dominic Cooper's character King Llane Wrynn, unveiled this evening. We've got more shots of Weta's armor work below, along with a nice chat with Taylor. The armor master says that new digital-enhanced techniques saved the day on Warcraft.
Taylor also brings up Krampus, from Trick R Treat director Michael Dougherty, for which he says about 80% of the effects are practical.
What was the overall approach to Warcraft?
It was terrific for us, because naturally people thought that the film would be significantly digital. But you have two protagonists — you have these equal armies, almost, and you want to tell those two stories. The way to tell the human story is through human actors. That required armor and weapons to be built, which was a joy for us. We'd done some early development with Duncan and Stuart on a previous movie, and that's how we got to know them. So when Legendary asked us to do this, and connected us with Duncan, you can imagine how extraordinarily excited we were.
The approach, luckily this director has a very strong vision, and he was armed with a studio that would support him and encourage the ideas he had. Initially, the armor was a real challenge, because in the game the human-proportioned armor is significantly off. So there was a little bit of design process to get people through prototyping to understand what was possible. Building the armor to be as significant as possible while still having someone be able to wield a sword.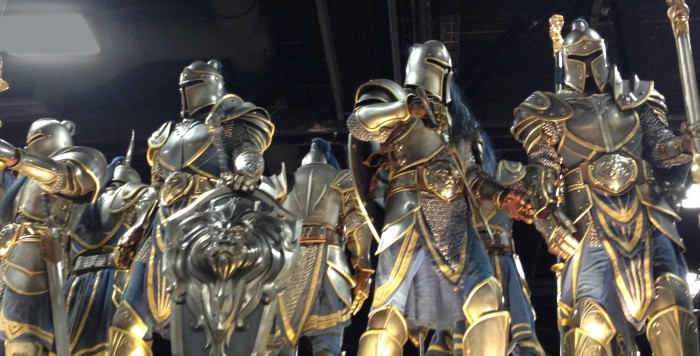 The test we always use, as crude as it is, is that an actor has to be able to clap their hands in front of their bodies, because that means that they can hold the sword, and wield it above their head. If they can't do that, it's because the armor is too encumbering. And you can't allow the design of the armor to overwhelm the performance of the actor. Otherwise, halfway through the shoot, the actor is going to become disengaged from the armor. These things are really important.
But the design process was a joy, the designs came to us mostly finished and we got to build them. Thankfully, for the last I guess twelve or thirteen years we've been investing in digital modeling technology, 3D printing, milling machines. Lord of the Rings was 100% hand-built. The Hobbit was 60% manufactured by robots. The technology that we developed for that film we were able to bring heavily to bear on this.
3D printing and milling, really, milling saved our ass on this. The product requires such a perfect finish. Perfect symmetry. If you look at the Lion shields, the swords, it was never going to be possible through hand-sculpting, in the time that we had. You could arguably do everything that the machines can do, but you could never do it in the time.
Laika has done 3D printing in color for stop motion work. Is that something you've experimented with?
We never 3D print in color, we always mold to create multiple reproductions. If we do bring a 3D print to set, it's almost guaranteed that the paint finish on it is going to have to be far more subtle than anything a printer can do. One day, of course, printer improvements may allow it.
What sort of volume did you have to deal with on this film?
We made a vast amount of stuff for this, but it was really about the time we had to make it in. But there were a lot of variants, so it required a lot of digital modeling to achieve that. Thankfully we have a very strong 3D department in the workshop. Considering that we're a physical effects model making company, we have maybe 180 computers on the workshop floor, just to keep up with the production line of work.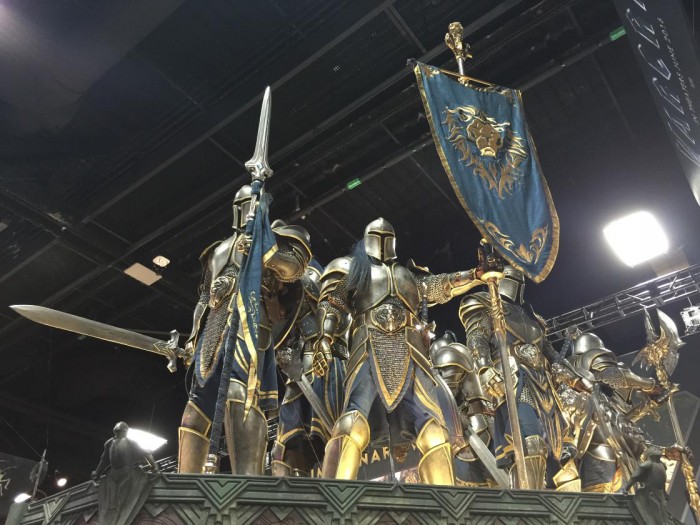 How do you feel about Weta Workshop's position now, given the balance of practical versus digital in the industry today?
Well, obviously Weta Digital is stoked! As for Weta Workshop, we have never been just a film effects company. We service the world's creative industries, so we manage to balance our work, down to things like miniature building. Miniatures used to be our biggest department, it's now our smallest. Although two years ago I managed to get Thunderbirds off the ground, and we now do that all by modeling in miniature. The technique we came up with for that complements what we love doing. We digitally composite digital characters into miniature worlds.
But there is still a great appetite for physically manufactured items. Directors such as Duncan, who has a great love and fascination for practical work, which we saw in Moon. That was a beautiful movie that touched people's hearts, a science fiction movie that naturally any other director in the world would have turned to digital effects to create. Look what he did. He kept you totally connected through the visceral, tangible quality of the world. So I feel very fortunate.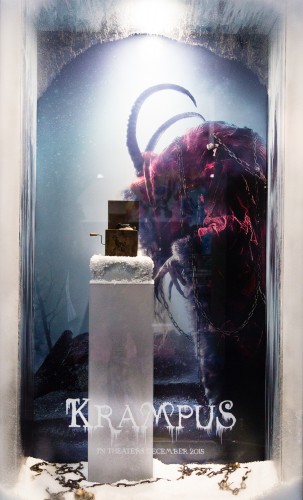 And we've just done another Legendary movie, called Krampus, that director, Michael Dougherty, he came down and embraced physical effects to an extreme level. Maybe 80% of that movie has been produced through puppetry. I can't talk about that, but we've done lots of puppet work, it was a wonderful experience.
We're very fortunate that we have this relationship with Legendary. Running an effects workshop at the far end of the Earth can be very challenging, and therefore having a group of people as significant as this endorsing our work, and giving us work, is cool.
***
Warcraft is set for release on June 10, 2016.Krampus will hit theaters on December 4, 2015.