Check Out The Great 'Die Hard' Nakatomi Plaza Blu-Ray Box Set Packaging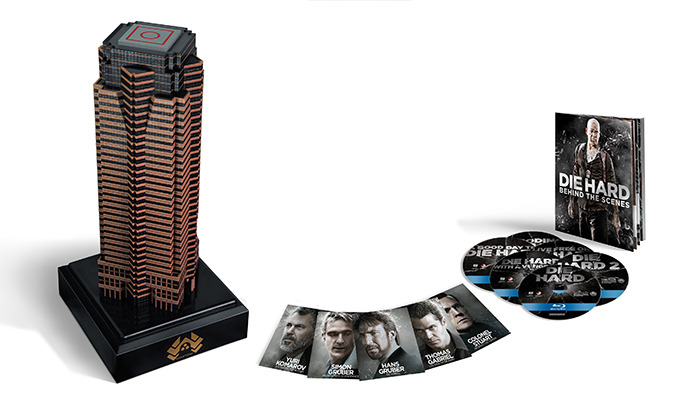 Fox is getting back into the Comic Con game in a big way with a new Die Hard Nakatomi set that houses all five films in the franchise within a plastic replica of the series' signature building, the tower in Nakatomi Plaza. (Which, in real life, is located in Century City in Los Angeles, and is now Fox Plaza, and the official home of 20th Century Fox.)
This set, which is available for pre-order at Comic Con, will street on October 13, with blu-ray and Digital HD copies of all five films, from the 1988 Die Hard to 2013's A Good Day to Die Hard, in addition to a full suite of special features, some of which are new to this set.
And, hey, if you really hate the idea of owning the fifth movie, you can always leave it in the tower and set the model on fire, thereby recreating the great climax of the first film and getting rid of that pesky fifth movie at the same time. Check out a larger image and the full specs below.
Fox hasn't issued a price yet for this set, but expect it to be around $150. We guess that because, curiously, this was first announced as a Polish blu-ray release, with a price of €130. (That's about $150 US.) That edition sold out quickly, but we can expect this one to be very similar.
Click this to enlarge: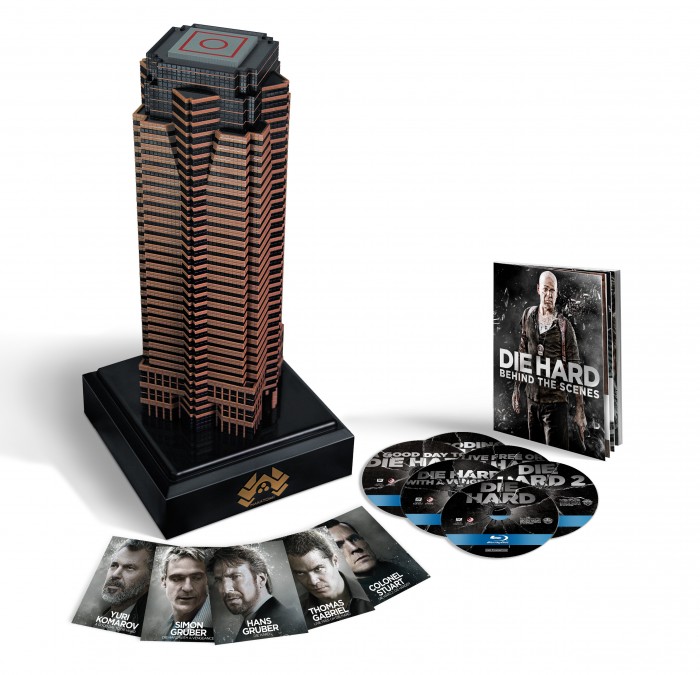 And here's a photo that accompanied the original Polish announcement, showing how the discs are stored in the tower. Expect the US set to be similar, if not identical.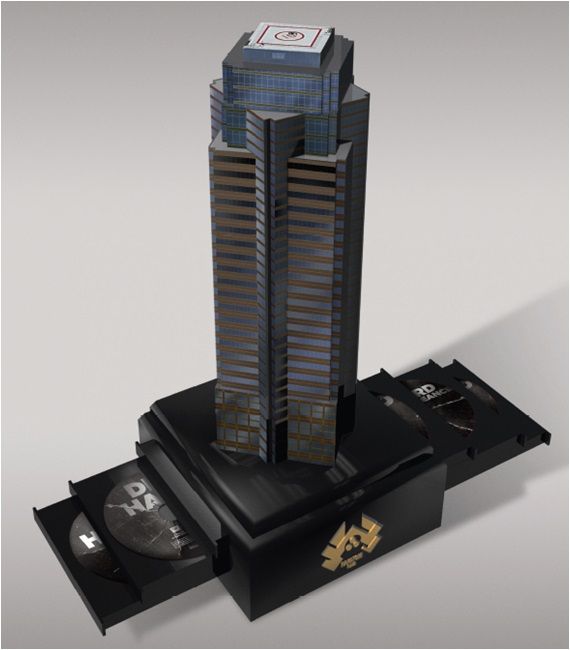 Here's the press release copy about the set:
Every limited-edition set comes with all five films on both Blu-ray™ and Digital HD as well as an explosive hour-long featurette that celebrates this iconic franchise with filmmakers and talent interviews. The Nakatomi Plaza also honors Hans Gruber and the vanquished villains from the series with collectible cards only found in the box set. And if that wasn't enough, check out the 32-Page, behind-the-scenes book on all the secrets of the movies that even the most die-hard fans may not even know!
NAKATOMI PLAZA: DIE HARD COLLECTION FEATURES:
Blu-ray & Digital HD Versions
Die Hard
Die Hard 2: Die Harder
Die Hard: With A Vengeance
Live Free or Die Hard (includes Unrated Version)
A Good Day to Die Hard (includes Unrated Version)
Blu-ray Bonus Disc: "Decoding Die Hard"
5 Exclusive Villain Collectible Cards
32-Page Behind-The-Scenes Booklet on the Franchise