'Southpaw' Trailer #3: New Eminem Track Fuels Jake Gyllenhaal's Boxing Comeback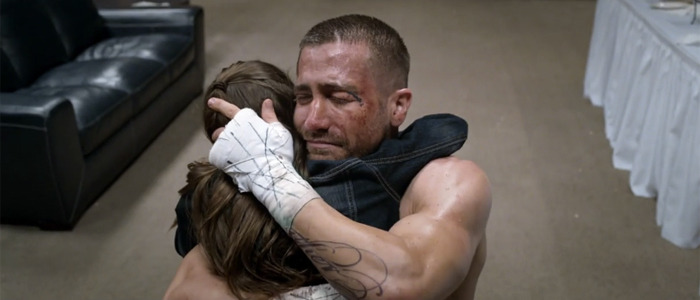 So far the marketing machine for Antoine Fuqua's boxing flick Southpaw has really hit hard. Driven by a pounding soundtrack provided by Eminem, the film starring Jake Gyllenhaal looks like a familiar but powerful drama.
Now yet another new trailer has arrived, fueled by another new track by Eminem. This one features Gwen Stefani, and is called 'Kings Never Die.' Will Gyllenhaal find redemption and become king of the ring again? At the very least, it seems like this might get him the Oscar nomination that he should have gotten for his performance in last year's Nightcrawler.
Watch the new Southpaw trailer after the jump!
The Weinstein Company will probably hit the awards circuit to campaign for Jake Gyllenhaal towards the end of the year, but I'm surprised that they're not holding onto this one for a release in the fall. At the same time, the Rocky spin-off Creed is coming this winter (watch the first trailer here), and there's a chance that could play well for the awards crowd too (after all, the original Rocky won Best Picture), so maybe getting a head start on the competition is a better decision.
There's a part of me that wishes we didn't already know the fate of Rachel McAdams's character in the film. This trailer avoids that detail completely while the first trailer came out of the gate with it. As you can see, you don't need to know that point in order to show the struggle Gyllenhaal's character has in the movie. Movie marketing is weird.
Forest Whitaker and Curtis "50 Cent" Jackson also star in the film arriving on July 24th. If you need another Eminem fueled trailer for Southpaw, check out the second one right here.
From acclaimed director Antoine Fuqua (TRAINING DAY) and screenwriter Kurt Sutter ("Sons of Anarchy ), SOUTHPAW tells the riveting story of Billy "The Great" Hope, reigning Junior Middleweight Boxing Champion of the World (Academy Award® nominee Jake Gyllenhaal). Billy Hope seemingly has it all with an impressive career, a beautiful and loving wife (Rachel McAdams), an adorable daughter (Oona Laurence) and a lavish lifestyle. When tragedy strikes and his lifelong manager and friend (Curtis "50 Cent" Jackson) leaves him behind, Hope hits rock bottom and turns to an unlikely savior at a run-down local gym: Tick Willis (Academy Award® winner Forest Whitaker), a retired fighter and trainer to the city's toughest amateur boxers. With his future riding on Tick's guidance and tenacity, Billy enters the hardest battle of his life as he struggles with redemption and to win back the trust of those he loves.