Brad Bird's 'The Iron Giant' Coming Back To Theaters With Brand-New Footage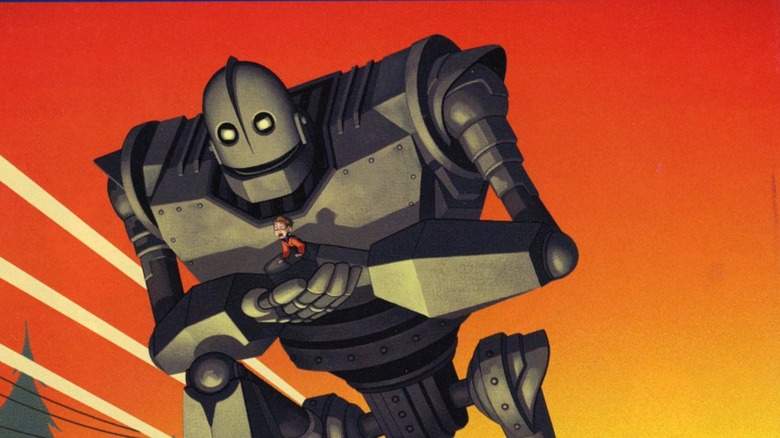 Brad Bird's The Iron Giant is getting polished and upgraded for a theatrical rerelease. Warner Bros. and Fathom Events announced today that a remastered version of the 1999 animated classic, enhanced with brand-new footage, is coming to cinemas for a limited engagement this fall. More details on the Iron Giant rerelease after the jump. EW reports the new cut of The Iron Giant, called The Iron Giant: Signature Edition, will play in theaters across the country on Wednesday, September 30 at 7 PM. If you can't make it, don't sweat it. There'll also be an encore presentation on Sunday, October 4 at 12 PM. A digital HD release follows later this fall.The Iron Giant is an adaptation of the 1968 novel The Iron Man by Ted Hughes. Hogarth is a rebellious kid growing up in Maine in 1957, at the height of the Cold War. He befriends a 50-foot robot who's fallen from outer space (voiced by Vin Diesel), and must protect him when the U.S. government comes after him.
The film flopped hard when it first opened in 1999, grossing just $23 million on a budget of $70 million. But reviews were excellent, and in the years since it's attracted a much wider following. As has its director. After making his feature directing debut on The Iron Giant, Bird went on to helm such films as The Incredibles, Ratatouille, Mission: Impossible – Ghost Protocol, and Tomorrowland.
Said Fathom Events CEO John Rubey in a statement:
We can't wait to bring this family favorite back its home on the big screen. The Iron Giant is meant to be seen and heard in movie theaters and this is a great chance for fans new and old to enjoy this classic, remastered with new scenes.
Details on which theaters will be showing The Iron Giant: Signature Edition have yet to be revealed. For more info, keep an eye on the Fathom Events page. In the meantime, here's the first poster.
A cool new poster for an old friend.
See #TheIronGiant at #SDCC & learn more about the #SignatureEdition #rerelease pic.twitter.com/iPmXQZ3Fyn

— Brad Bird (@BradBirdA113) July 8, 2015