Marisa Tomei Offered Aunt May Role In 'Spider-Man'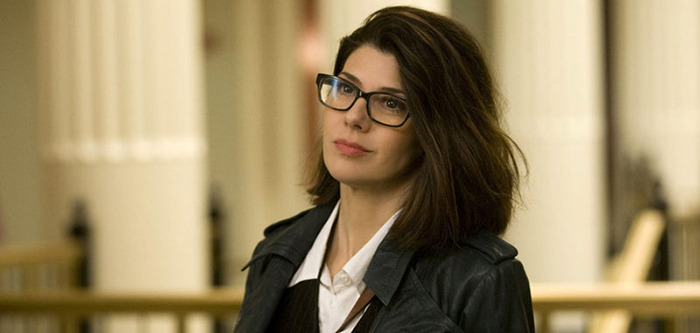 Tom Holland is the new Peter Parker in Marvel Studios' and Sony's upcoming Spider-Man, and now the producers may have found their new Aunt May. According to one source, Marisa Tomei is the choice for Aunt May, Peter Parker's guardian, for the new solo film which is set for release in 2017. An offer has been extended to Tomei, at least, which puts this news as something that will need some follow-up.
Variety has the story. The site notes that an offer has been extended to Tomei to play the character, but that a deal isn't necessarily finalized. Sony and Marvel had no comment. Which means it's a deal that isn't close to set at this point.
This is a surprising move. May has previously been played by Rosemary Harris, in Sam Raimi's movies, and by Sally Field in the two Marc Webb reboot films.
At 50, Tomei is the youngest actress to play the character, but since the studio has gone much younger in casting Peter Parker, presumably going for a younger version of May seemed like the way to go.
That said, Tomei seems at first like a far cry from the typically dowdy May. Even in the Ultimates version of the Spider-Man story, where May and Peter's slain uncle Ben are a bit more young and playful — essentially an aged hippie couple — May is fairly close to the classic conception of the character. That conception is of an older woman, white hair often worn up in a tight bun, and deliberately written as much older than Peter's parents, to create a large generational divide between her and Peter.
At the same time, expectations for someone in their '50s or '60s are very different now than they were when Spider-Man was created in the 1960s, and May is arguably a relic of a conception of life that has changed significantly over the last few decades. We don't know a lot about what Marvel and Sony are doing with the movie, other than that the goal is to make a sort of John Hughes coming of age movie, so we'll wait to learn more about what is planned.
Jon Watts (Cop Car) will direct the new Spider-Man film, which is scheduled for release on July 28, 2017.