Lucasfilm Releases Official Star Wars App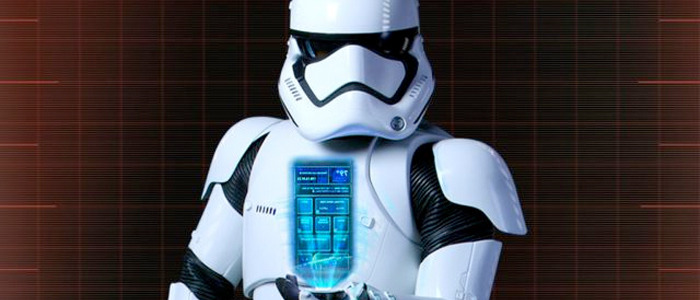 All Star Wars, all the time, anywhere. That's what Lucasfilm is touting with their announcement of an official Star Wars app that is now available for iOS and Android devices, just in time for The Force Awakens to wow fans at Comic-Con.
Just going by the little teaser trailer for the mobile app, Lucasfilm hopes this will become the hub for all Star Wars fans to find out about the latest news from a a galaxy far, far away, and to have all sorts of fun involving their favorite characters, settings, ships and more. Find out what the Star Wars app has in store after the jump!
First up, here's the official trailer for the app from StarWars.com:
As you can see, the Star Wars app will offer these features:
Instant notifications on big announcements, including trailer releases and movie news
Light Side, Dark Side, or Droid interfaces themes, each containing different designs, sounds, and animations
Unlock 3D characters from Star Wars: The Force Awakens using a special Augmented Reality camera feature
Take and share a Star Wars "selfie" in various iconic costumes and settings, including Jedi, Princess Leia (with hair buns), Han Solo's carbon freeze, and more
Get Star Wars-themed weather and five-day forecasts, featuring original art and parallax effects of in-universe planets and locales
Wield a lightsaber and hone your skills against a training remote, as seen in Star Wars: A New Hope
Share animated GIFs with your friends and family of memorable scenes and characters from the Star Wars movies and TV shows, including Star Wars: The Force Awakens and Star Wars Rebels
Discover behind-the-scenes fun facts with This Day In Star Wars History
Play classic sound clips and sound effects from your favorite Star Wars characters, creatures, weapons, and scenes
Get quick updates with a snapshot news ticker
Count down to major releases like Star Wars: The Force Awakens and Star Wars: Episode VIII with an always-running timer
Sign up for Star Wars ID and join the growing Star Wars fan community; choose an avatar and create your own handle
Read official Star Wars news and blogs from StarWars.com, as well as app-exclusive content, including the latest on Star Wars: The Force Awakens, creator interviews, and more
Follow official Star Wars social channels via aggregated, customizable feeds from Facebook, Instagram, YouTube, Tumblr, Google+, and Twitter
Watch official Star Wars videos, including movie trailers, behind-the-scenes featurettes, and more
Discover the latest Star Wars digital apps, products, and experiences from one central hub
That's quite a lot of Star Wars stuff, so it shouldn't be too hard to stay occupied until Star Wars: The Force Awakens hits theaters. I'm betting fans will want to pay attention to the app all week as there's some huge announcements expected from the Lucasfilm panel on Friday. We'll definitely be there covering all the big news that comes out of the panel.
Some of the surprises may have been spoiled yesterday since we found out that Darth Vader would appear in Star Wars: Rogue One. More importantly, The LEGO Movie and 21 Jump Street directors Phil Lord & Chris Miller are going to direct a Star Wars Anthology film focusing on a young Han Solo, and it's set for releases on May 25th, 2018. Lucasfilm likely has more up their sleeve, so stay tuned for all the latest on Star Wars.